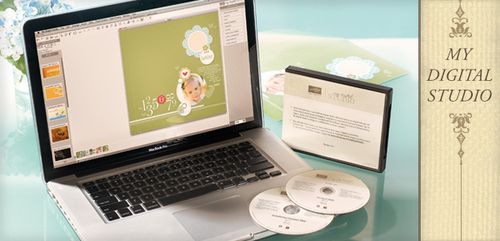 Saturday, Nov. 5th is Digital Scrapbooking Day, but Stampin' Up! is going above and beyond!  Stampin' Up!, with their digital papercrafting program My Digital Studio, will be celebrating from Nov. 4th through Nov. 7th!!  The event will include free downloads, blog posts with exciting project ideas all weekend long, and the announcement of the 2011 My Digital Studio Contest winners.
Did that say "free downloads"????  Yes, it did!!  Beginning tomorrow, Nov. 4th, anyone can go to www.mydigitalstudio.net, a special website dedicated to My Digital Studio for both customers and demonstrators alike, filled with forums, questions, samples, discussions, videos….everything you need to know about My Digital Studio!  You will be asked to fill out a short survey and then you will be taken to the links to your FREE DOWNLOADS! If enough people take the survey, EVERYONE will receive ANOTHER FREE DOWNLOAD!
If you already own a software program, you can purchase My Digital Studio downloads and use them on your program.  What other software programs are compatible with My Digital Studio downloads? Any program that supports .jpg and .png files & layers such as: Adobe Photoshop, Adobe Photoshop Elements, Jasc Paint Shop Pro (PSP), Microsoft Digital Image Pro (DIP), Ulead Photo Impact (PI), Corel Draw.
Our digital downloads (with the exception of Designer Templates and the Express Booster Pack) are compatible with other software programs. You cannot, however take advantage of Stampin' Up!'s professional print services without purchasing My Digital Studio.
Here is a link to the My Digital Studio Facebook page if you would like more information:  https://www.facebook.com/mydigitalstudio  Be sure to "Like" the page and then you will receive the new updates on your Facebook page.
Read and see much more about My Digital Studio here.
So be sure to check  www.mydigitalstudio.net tomorrow or this weekend, complete a short survey, and get your free digital downloads.  You'll be glad you did!