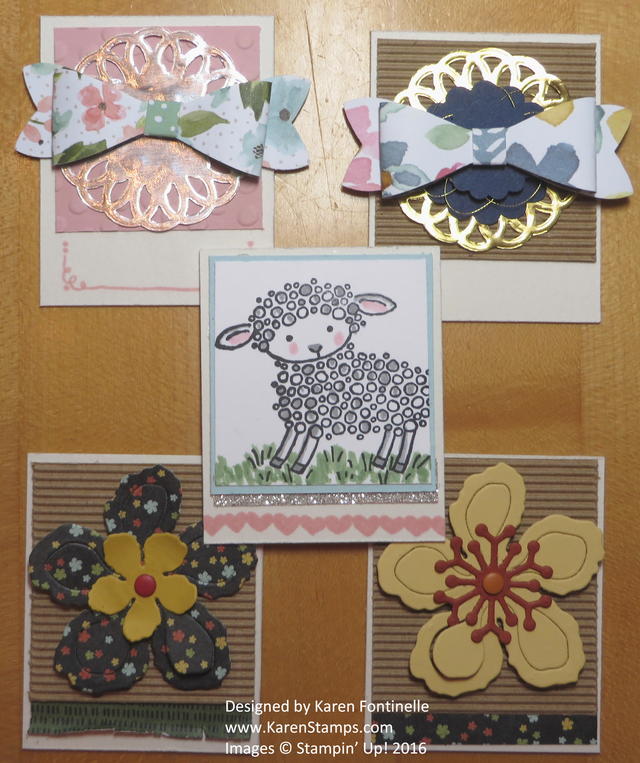 These little Coaster Board magnets are an idea that I found in our latest issue of Stampin' Success, a magazine sent to us demonstrators every quarter. I've mentioned this magazine a lot in the past, one of my favorite perks of being a Stampin' Up! Demonstrator!  We used to get an issue every month, but unfortunately, times change, and now we get it once a quarter. But it is still a fun source of stamping ideas and business tips.
You might not even know what Coaster Board is or that Stampin' Up! carries it! What in the world is Coaster Board??! Stampin' Up! describes it as thinner than chipboard but sturdier than cardstock. It makes it the perfect material for any projects where you want something stronger than cardstock. You can stamp it, die cut it, and make 3D projects with it.
These magnets are cut 2 1/2″ x 2″. Of course you can make yours any size you want. I was going for small and cute! Decorate the front like a tiny card or adhere a photograph, attach embellishements or do some stamping on them! Then just attach a magnetic strip on the back (you can pick up all kinds of magnets for crafts at a craft store). This is a good way to use up some of your small scraps, leftover embellishments, etc. etc. Just have fun with it!
Coaster Board also works really well with the Berry Basket Die to make baskets that are stronger than cardstock. You can see the basket I made and the details HERE in this post.
And if you would like to receive the magazine for Stampin' Up! Demonstrators, Stampin' Success, plan to join the Stampin' Up! family yourself, especially now during Sale-A-Bration! Purchase the Starter Kit for only $99 and during Sale-A-Bration, get an extra $30 in product! Than means you will get $155 in product for only $99! Run your business as big or little as you like. You also receive some Stampin' Up! Catalogs and business supplies to get you started!

For more information and to answer your questions, just email me at Karen@KarenStamps.com or click HERE on the website for more information.  Signing up is easy!  You can do it online in a matter of minutes and have your Demo number to start looking around the Stampin' Up! website for Demonstrators while you wait for your Starter Kit to arrive!
Put some Coaster Board on your next Stampin' Up! order and make some cute Coaster Board magnets and other projects with it!