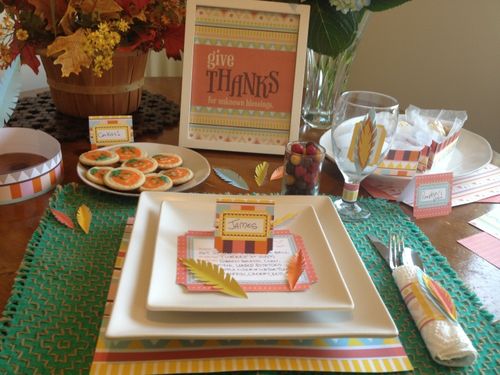 Images copyright Stampin' Up! 2012
Special holidays call for special table settings and decorating your Thanksgiving table is probably one of the biggest ones!  Sara Brook, of the Stampin' Up! My Digital Studio Team, put together this lovely place setting made with the Unknown Blessings Ensemble. It comes with everything you need to make these table decorations and really sounds easy!  Just use the digital feathers, filling in with whatever color paper you want, print, cut out and snip to look like feathers.  We all made Indian headbands in school I'm sure…just print out the headband, size correctly and add some feathers. The napkin rings are made the same way, just smaller! There's even a pie box to print and make, frameable art, menu cards, place cards….and whatever else you can think up using this digital set!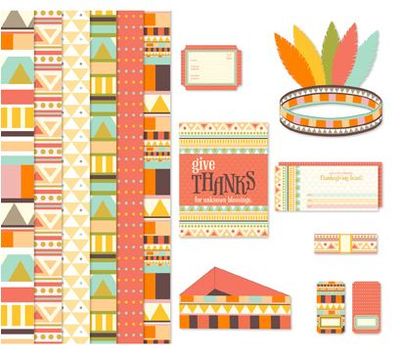 Images copyright Stampin' Up! 2012
Read more of Sara's post on the Stampin' Up! website for My Digital Studio HERE. She also has more photos how you can use all the elements of the Unknown Blessings Ensemble.
Even if you don't own My Digital Studio (you don't??!) I'm sure you can get some Thanksgiving table decorating ideas from this photo above!
Interested in My Digital Studio?  Well, there is the free 30-Day Trial….AND coming up, starting Monday, Nov. 19th during the Stampin' Up! Online Extravaganza, My Digital Studio is one of the discounted items!!!!!!
Check the Online Extravaganza list HERE….and find the My Digital Studio discounts at the very bottom of the last page!!  That's the 50% off list!!  You will be able to purchase the full MDS 2+ download, the MDS 2 version (less content), or the MDS 2 upgrade all for 50% off the regular price! I would absolutely recommend the MDS 2+ version even at full price but ESPECIALLY for half-price!  You will be amazed at all the downloads that are included in that version.  Treat yourself to an early Christmas gift!
Find all the My Digital Studio options HERE in my Online Store.