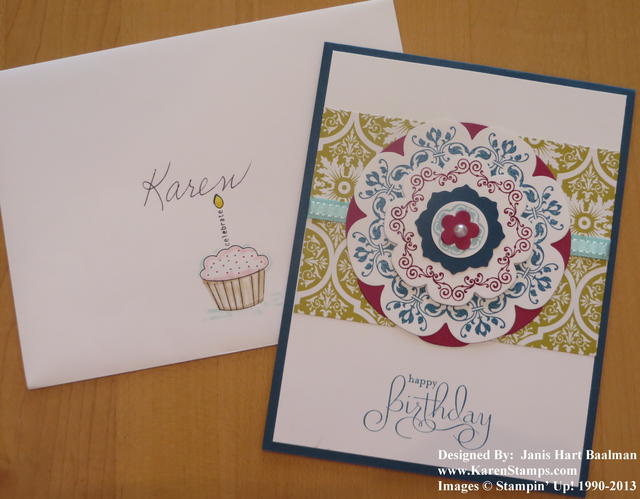 The Daydream Medallions stamp set I have thought is a beautiful one.  And this birthday card my longtime dear friend made for me for my birthday with Daydream Medallions is certainly a beautiful card. She always makes a beautiful card in a simple elegant style.
Don't you love the cupcake on the envelope, too?! Always stamp something on your envelope! We don't want to send a naked envelope! If that cupcake wasn't stamped on that envelope, wouldn't you just toss it out right away?
My friend also sent me a funny book with quotes about old age! My favorite one I've found so far is one by Ann Landers, the advice columnist. Let me first state that I did NOT turn 70! Just to be clear!!  But whatever decade below that it was, this describes exactly how I feel!
"Inside every seventy-year-old is a thirty-five-year-old asking "What happened?"
Maybe the essence of ourselves doesn't age past thirty-five and that's why we don't feel as old as we get!
The book is called Old Age Is Always 15 Years Older Than I Am by Randy Voorhees if you need a funny gift for a middle-aged friend!