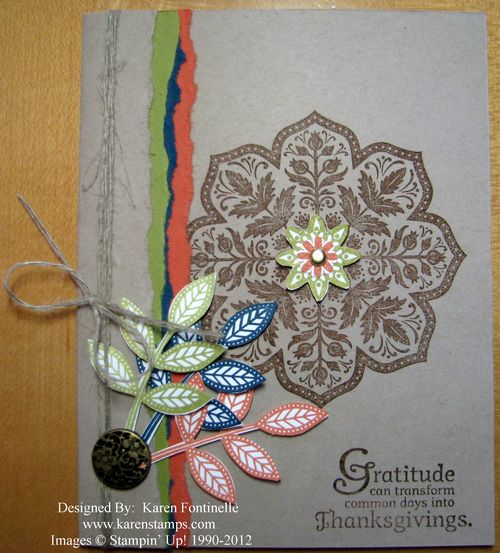 It's November now so our thoughts turn to autumn and Thanksgiving.  The stamp set Day of Gratitude is a beautiful one for any season, but it seems to really stand out at this time of year. On this card, I took the idea from the Stampin' Up! Catalog, where only a portion of the card is shown on page 26. I don't know how Stampin' Up! made their card, but this is how I made mine! The colors used work beautifully together…Crumb Cake for the card base, Soft Suede for the medallion and Tangerine Tango, Lucky Limeade, and Midnight Muse. The Antique Brad really adds some elegance to this card.
To make this card, I tore off the front of the card base, leaving just that small margin you see. Then I took increasingly wider pieces of the colored card stock and tore those, adhering them to the back side of the front cover piece. Finally I took a new 4 1/4" x 5 1/2" piece of Crumb Cake card stock and glued it to the underside of that front flap with all the colors (stamp it first!). The leaves are hand cut, but that was pretty easy with my Stampin' Up! Paper Snips.
There are lots of beautiful cards, scrapbook pages and projects you can make with this Day of Gratitude Stamp Set. If you are putting in an order, I would also add the Antique Brads, Paper Snips….and DON'T FORGET:  we have a new paper trimmer…the Stampin' Trimmer!  It's been in the new catalog, but just became available this month. I think Stampin' Up! improved any and every feature anyone might have complained about on the old trimmer.  Click on the link for the trimmer and you will also see a video about the features of the new trimmer.
Start stamping your Thanksgiving cards and projects now so you won't be rushed!