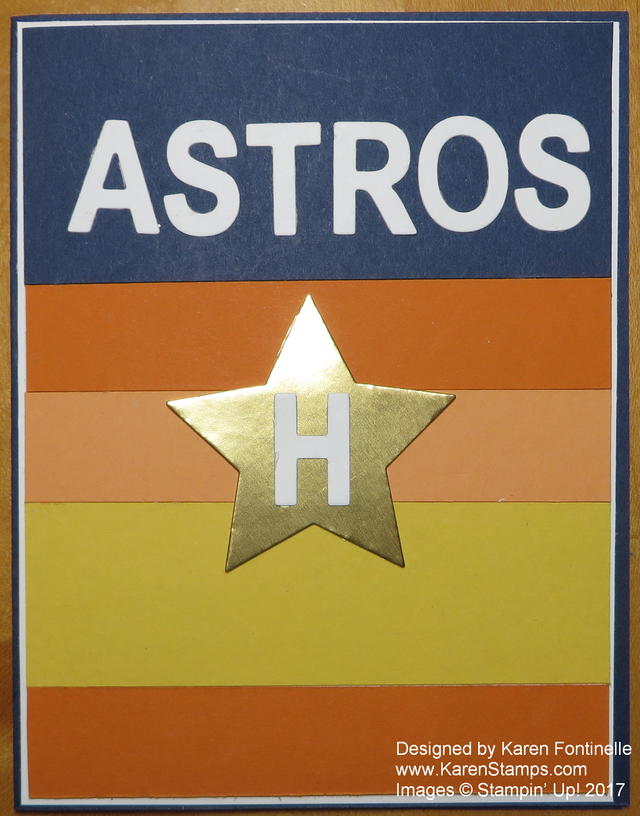 Exciting times in Houston, Texas as the Astros made it into the World Series and last night was Game 3, the first game in Houston after two games in Los Angeles against the Dodgers. Houston is SO excited to be playing in the World Series and to have the game at home for three nights!
After Hurricane Harvey the end of August, this is a great distraction for those who have been dealing with the flooding and aftermath for almost two months. As someone said on TV, Houston deserves to win the World Series!" We'll see what happens! I'm sure the Dodgers think they deserve to win just as much after a long wait to get in the World Series!
Of course being able to stamp and make cards makes it fun when we have a special event like the World Series going on!  This is a card I made sort of looking like a certain vintage Astros sweater that was recently made oh so popular as Kate Upton was spotted wearing it (she's engaged to one of our Astros pitchers, Justin Verlander!). With all the colors of paper that Stampin' Up! has, there usually is something to use for most any occasion when you are trying to match colors.  The letters I made on the card spelling out Astros were die cut with the Little Letters Thinlits Dies, which are retired…..but they fit just perfectly on my card!
Stay tuned tonight for Game 4! I'm keeping my fingers crossed for another win!
Stampin' Up! Reminders
The Designer Series Paper Sale, Buy 3 Get the 4th Paper Free, ends Oct. 31. That's Tuesday!
The Merry Patterns Promotion ends October 31.
JOIN PAPER PUMPKIN by November 10th to get the second coordinating kit (but each kit stands alone!).
NEW Stampinn' Blends Alcohol Markers available to purchase November 1!  Get yours right away!