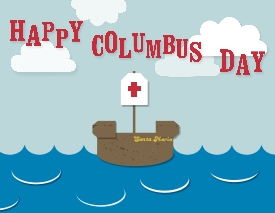 Images © Stampin' Up! 2012
Happy Columbus Day!  Here's my crude little version of one of Columbus's ships, the Santa Maria, in honor of Columbus Day!  I made it all in My Digital Studio, with no plan, no copying, just playing!! I just used punches to make the ship and the waves, even tried the new crop feature in MDS 2! I love all the new features in Version 2 of My Digital Studio! If you either own My Digital Studio or want to learn a little bit about it, you can visit www.mydigitalstudio.net.  It's is a Stampin' Up! site for My Digital Studio for customers and demonstrators. It's actually a Ning site that you can join, but you might be able to just look it over without joining. There are places to ask questions and tons of videos from Stampin' Up! as well as other demonstrators on how to use all the features in this digital papercrafting software.
Once you check it out, go get the My Digital Studio Free 30-Day Trial and play with it! If you've never done digital, yes, it will take a bit to get used to (i went crazy at first not having paper and stamps in my hands to move around and try out!) but it is not hard to learn! I learned it from no experience!  The more you use it, the faster you will become proficient….you only need practice, not great computer or digital designing skills!
Give it a try today! Just go to my Stampin' Up! store  and you'll be able to download the free trial in minutes!