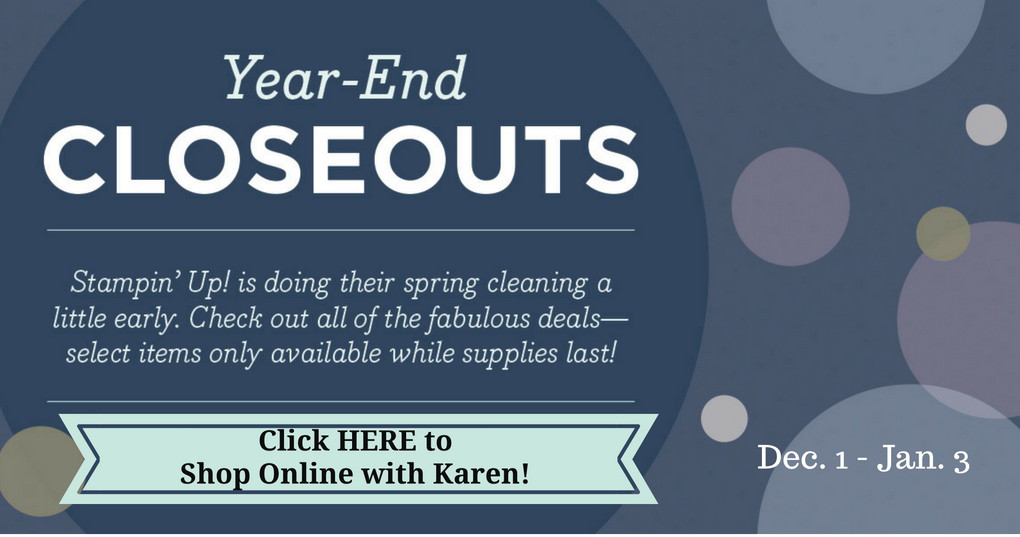 The Stampin' Up! Closeout Sale goes a little bit past the end of the year, until January 3rd, but since you have been busy with the holidays, you want to be sure to check this out, or check it out again and see if any of these deals are for you!  Be sure the drop down box on the right of the Closeout page shows:  "ALL" so you don't miss anything.  Other wise you have to click for the next page and the next.
Pay special attention to the Bundles, because even if the items are carried over, they won't be in a bundle and you won't save 10% like you will now.
Don't forget!  The Holiday Catalog is retiring January 3rd!  I HATE to say that!  I loved this catalog, as I usually love the holiday catalogs the most!
Here is the list of Retiring Products from the Holiday Catalog. Be sure to get them while you can!

Here are the Holiday Catalog items carrying over, that will still be available, although not in Bundles.
You can click on any photo to go to my online store for more information or to order!