We go from the first day of autumn to an Embellished Ornaments picture frame ornament! Believe me, pretty quickly time will seem to go that fast when we get rolling here!  I saw something resembling this idea on some non-stamping website and it reminded me of this stamp set.
I stamped two ornaments in Versamark Ink and embossed with Gold Embossing Powder using the Stampin' Up! Heat Tool. I also stamped the ornament hangers and embossed with Silver Embossing Powder. Then I glued the hanger on to the ornament with either a bit of Fast Fuse Adhesive or Multipurpose Liquid Glue.
To make this pretty ornament into a picture frame, I used the 1″ Circle Punch to punch a hole in the center of one ornament to fit a photo.  You might punch the hole and then make sure the photo you choose will fit in the area nicely, Cut the photo a little larger than the hole so it can be adhered on the backside of the ornament. Then glue together the two ornaments so you have a front with the photo and the plain back of the ornament.  Tie a bow around the hanger, perhaps with the Real Red 1/8″ Striped Ribbon.
There you have it!  I nice little photo ornament that you could hang on the tree, tie on a package for a tag, or even attach to a Christmas card. Very easy to make!  You could make it even simpler by just stamping with ink and not embossing.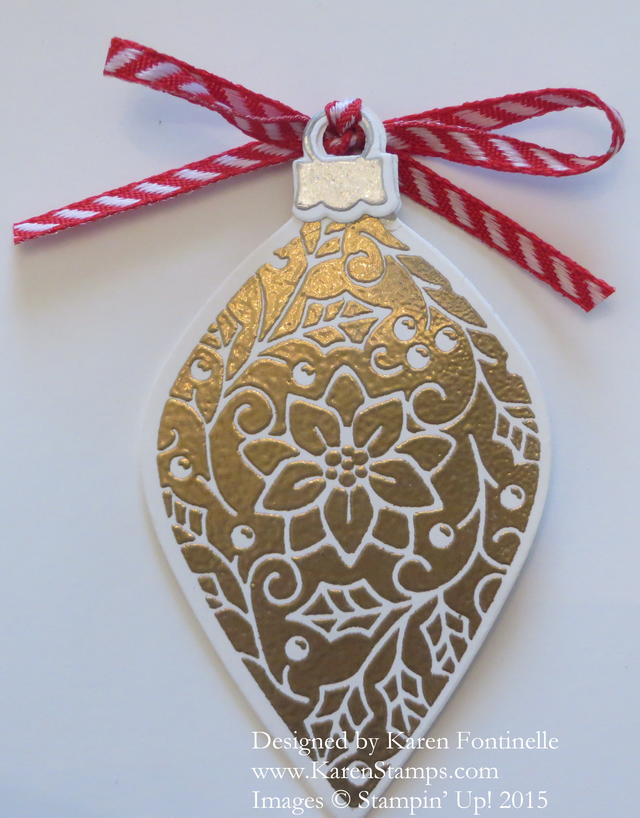 You can do a lot with this Embellished Ornaments Stamp Set.  Make some ornaments fancy or plainer. No matter which you do, they will still look elegant on your projects and cards!