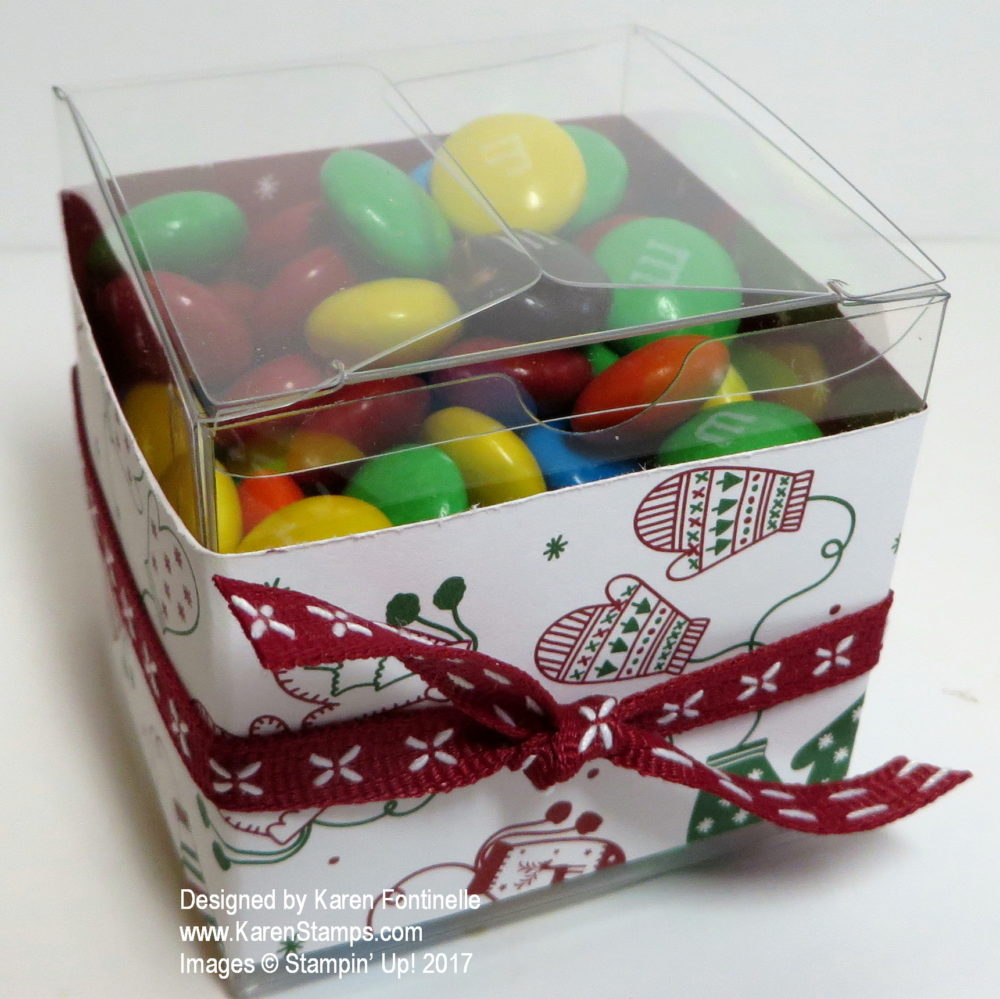 It's time to stock up on the Clear Tiny Treat Boxes for making something like my Christmas Tiny Treat Box or treat boxes for any other occasion. They are very easy to decorate and fill with candy or a small gift.
These little boxes are really handy to have.  They are small and come flat so storage is no problem.  Just pull off the plastic protecting their surface and assemble.  Be sure to crease the score lines well on the boxes.  I usually fold  back and forth where I can to get a good crease.  That makes for a "sharper" box.
Decorate the Tiny Treat Boxes any way you like!  For Christmas, like the box above, you might easily wrap some Christmas designer paper around the outside around the sides. Another variation might be to wrap the paper from top to bottom, covering the lid and decorating that way. After wrapping the Be Merry Designer Series Paper around the outside of the box, I also wrapped a piece of Cherry Cobbler 1/4″ Double-Stitched Ribbon around the the middle and simply tied in a knot,  You really can't decorate a small gift box quicker and easier than this! And if you wanted to, you could embellish way more than this!
If the gift or treat or favor is for a birthday, of course just wrap with birthday or generic paper, tie on some ribbon, maybe add a greeting or an embellishment or tag, and you have something quick and ready to go for the recipient.
Here are some Halloween Tiny Treat Boxes With Spooky Cat in THIS POST that I made in August to get ready for Halloween. Just think of the possibilities!  You get 16 boxes that are food safe, 2″ x 2″ x 2″ and only cost $7.50. Good to order some and keep on hand, even if you don't have a specific occasion in mind at the time.  They will be useful for lots of things.
And don't forget, the Be Merry Designer Series Paper is one of the papers in the Buy 3 Get 1 Free DSP Sale going on now all month in October.
Stock up during the special offers going on now!