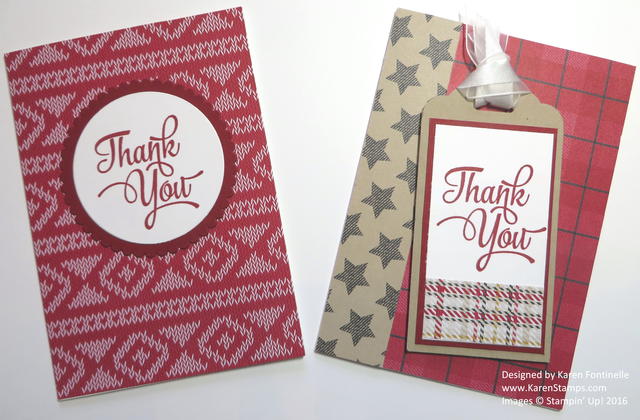 I'm calling these Christmas Thank You Note Cards, but can't you see that you could use them almost any time? If you send thank you notes (and we all should) you will be sending them after the Christmas holidays, so these made with the Warmth & Cheer Designer Series Paper Stack have a lot of wintery looking papers, perfect to use after Christmas! But there are also other patterns that are other designs that you can use just any time.
To save time, I used the Whisper White Note Cards and Envelopes. These cards are a little smaller than the cards we normally make, but not too small that they can't be used for writing notes. I think these Stampin' Up! Note Cards are one of the most overlooked items in the catalog! They are so handy, you should really keep a pack or two on hand. On these thank you notes, I covered the note cards with the designer paper, but you could also quickly stamp an image on the front of the plain note card and write a note inside.  Quick and easy! There are also Crumb Cake Note Cards and Envelopes if that color suits your purpose better!
Why am I mentioning thank you notes now?? Well, sometimes I think it is better to start from the end and work forward! Sometimes I do my packing for a trip this way! For the holidays you know you have shopping and wrapping and cooking and cleaning to do, but by the time you get to handmade thank you notes, you are not going to take the time. So do those now to keep on hand because you KNOW the shopping, the wrapping, the cooking and cleaning WILL get done! And besides, it's not just Christmas! Maybe you will get a hostess gift from a guest at Thanksgiving dinner or maybe you will be a guest at someone's house for Thanksgiving. Wouldn't it be nice to have thank you notes ready to send after Thanksgiving? Which would be more fun?  Getting an email saying "Thank you for the dinner!" or receiving one of these cards in the mailbox with your handwritten note personally thanking your host?? Email is more convenient (unless the recipient doesn't check their email as timely as you do!) but a handwritten card means and says so much more. And since that's what we love to do – stamp and make cards – let's DO that!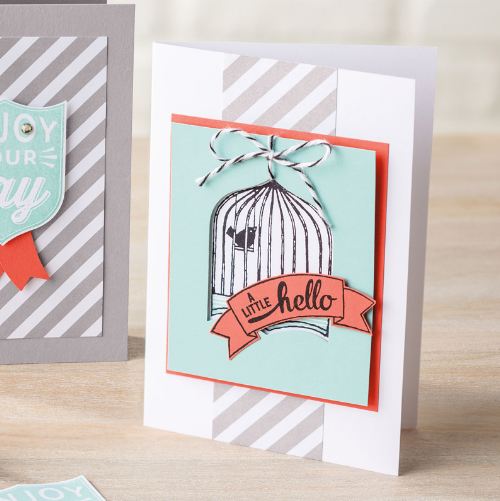 Make it simple for yourself in this busy time. Get a pack or two of note cards and make up a few thank you notes to send when the occasion calls for it.
And don't forget the new Stitched Shapes Framelit Dies available now plus the 25% off sale on select stamp sets!