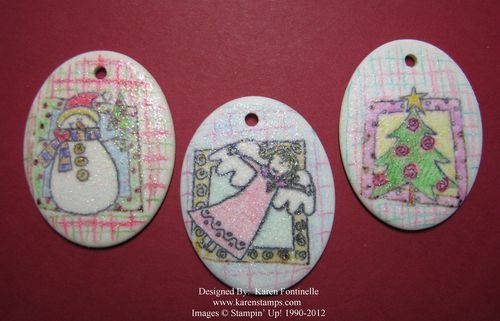 Anybody remember these Christmas porcelain ornaments Stampin' Up! used to sell? I'm thinking it was back in the beginning days of my association with Stampin' Up! And that's now been over ten years ago if you count from the time I first heard about Stampin' Up! from my friend I was visiting. If you've been around Stampin' Up! that long, I'm sure you will recognize the stamp set, too!
As I was cleaning out my craft closet recently, I knew I was going to find a bag of plain porcelain ornaments….but I didn't remember that I had already stamped them! What a nice surprise to find something stashed that was actually used, so now I am happy to bring them out of the darkness and hang them on the tree this year! They would also make a cute Christmas tag on a package! Just remember that a handmade Christmas ornament can be very special.
I believe these were stamped with Stazon and then colored in with markers. For the sparkly finish they probably were stamped with VersaMark ink and embossed with Iridescent Ice Embossing Powder #101930.
Find something in your stash that you've been putting off or forgot you even had and make something with it today! You might find some Christmas gift ideas that you didn't know you had!