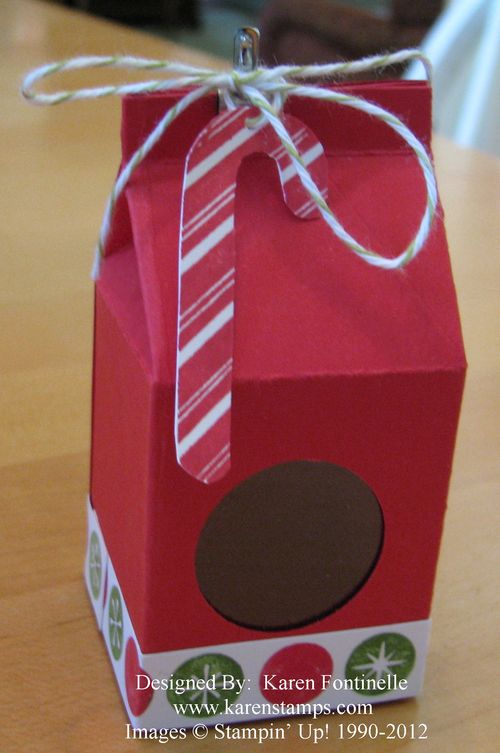 Summer may be here but the other day I made this cute Christmas milk carton with the Big Shot and wanted to show you.  And it never hurts to start thinking about Christmas crafts way ahead of time!  Of course you can make this for any occasion, just change the colors and papers.
While you can make just the usual milk carton box, I punched a hole in the center of one side (figure it out before you glue!) and added a piece of window sheet behind the hole.  Now you can put some colorful candies or a sneak peek of the gift and it will show through!
For this project some of the supplies you will need:
Mini Milk Carton Bigz L Die #117310
Big Shot Die-Cutting Machine #113439
Chock-Full of Cheer Stamp Set (p. 10)
I used a mini Library Clip on the top, but you could perhaps use a Vintage Trinket #118764, just to add a little interest and then hang the candy cane with some Baker's Twine or even Linen Thread.
I'm sure you can imagine lots more ways to embellish this project!
For any stamping supplies, please visit my online store HERE. (Especially if you have a large order…$150 or more….be SURE to go to my direct link to my store…not through Stampin' Up! first…to be able to get your Hostess Rewards!) If you have any questions, just ask me first!