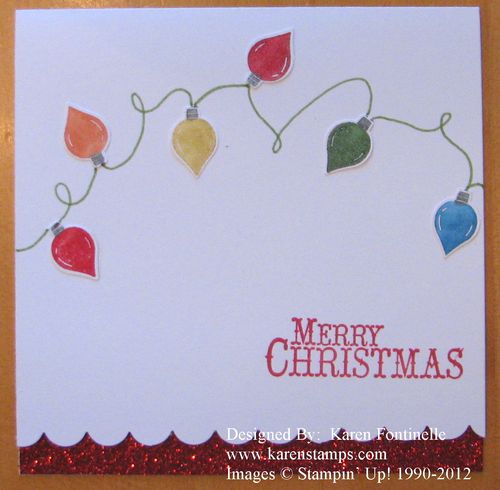 This little Christmas card with Christmas lights on it was fun to make!  I just LOVE Christmas lights!  Unfortunately, the rest of my family does not enjoy driving around oohing and aahing over beautiful Christmas lights.  But I also love to decorate the outside of our house with lights, and this year my husband and our boys put up the lights Thanksgiving weekend.  We also have some "cutouts", as I call them, that my husband cut out with a saw years ago and we painted.  In the daylight now the paint looks pretty bad but at night they are fine.  Then as the air-blown decorations came out we purchased some of those.  The first one, a moose popping out of a package, finally came to an end and we got new ones, our current ones…Santa in the chimney and Snoopy on a plane!  If I had more room, I could be one of those houses that is completely covered in lights and with every square inch of the yard filled with something fun!  Not junky looking but well-planned out!  But we're not there yet, that's for sure!
But on Sunday morning, my husband discovered this sign in our yard! The neighborhood judging was Saturday night and apparently they liked our house!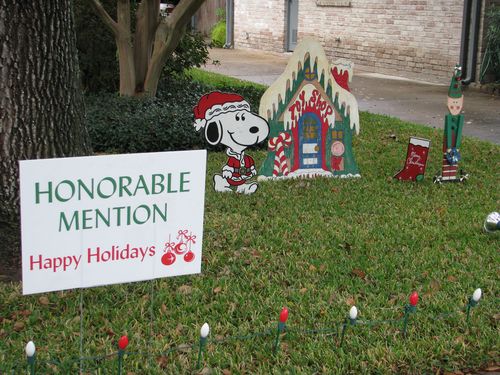 I was so excited since I am pretty pleased with at least most of our lights and decorations and love seeing the Christmas lights around the neighborhood.  Some houses have REALLY gone all out with the blow-up things and other decorations!  I love it!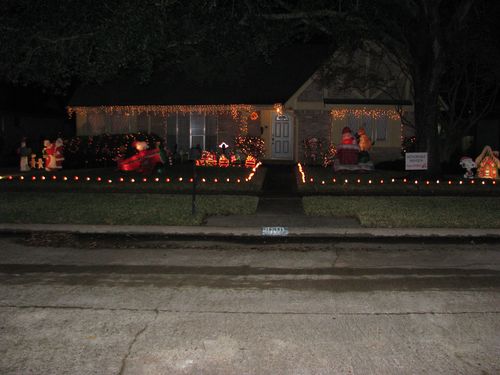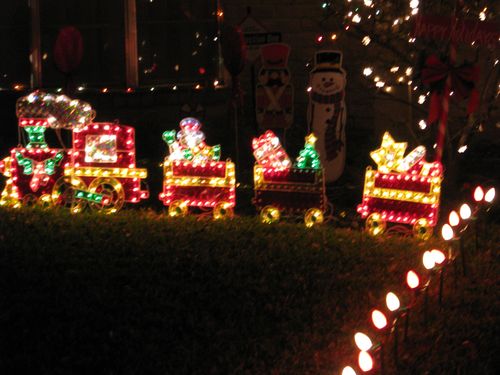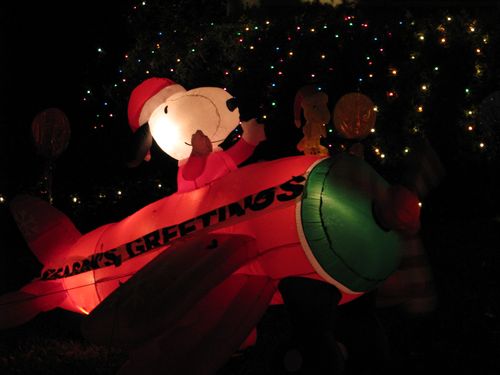 To make my Christmas card with the little lights, I just stamped the little light bulb from Merry Minis and punched with the Merry Minis Punch Pack #126882. I placed the bulbs around the card and drew in the green cord with a marker.  The bottom was punched with the Scallop Edge Border Punch so that I could add a strip of Red Glimmer Paper #121790 to the bottom of the inside of the card. If Ihad more time, I would put a little Crystal Effects on each bulb which would make them each look shiny!  Maybe next year!  :)
Don't forget the Clearance Rack Blitz!  I don't know what is left or what will be left when you look…and don't forget to look over the "older" Clearance Rack too!  A good sale is a good sale!  Have fun!