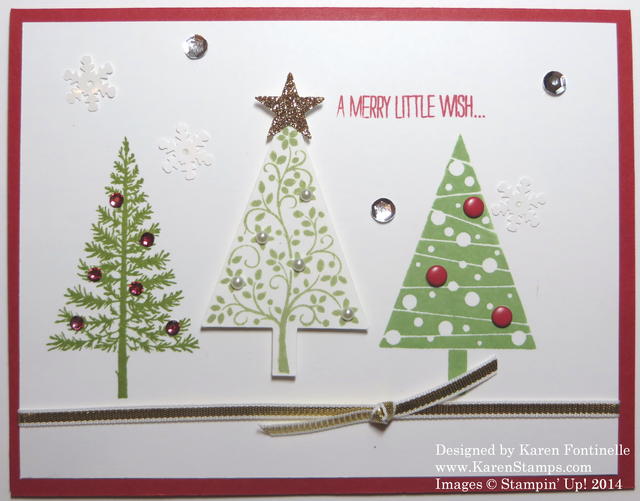 It's time for my 12 Weeks of Christmas! What is the 12 Weeks of Christmas?? It's a free gift for my Mailing List Subscribers! Each Wednesday, starting next week, October 1st, subscribers will receive an email containing a project idea for a holiday card, gift, tag or wrapping, along with all the directions to make it! These emails are ONLY for my Mailing List Subscribers so if you haven't signed up to be on my list, please do it today! If you are already on my mailing list, no worries!  You are IN! You don't need to do anything! But if you have a friend who also might enjoy weekly holiday projects, just have them sign up too!
Getting these 12 Weeks of Christmas emails is really fun, so I hope you will join us! I choose projects that I think you will enjoy and can make easily. We'll start with ideas for Christmas cards, then progress to gift ideas, and finally something to wrap them in, box them up in, or cute tags to make for your gifts.
These projects will NOT be on my blog or my Facebook page, so the only way you can get them is via my email list! I appreciate those who sign up for my mailing list and this is something special only for them. So if you have been visiting my blog, please sign up in the Mailing List Sign-Up Box in the upper right corner of my blog or in this post above! You get a free gift just for signing up!
***Remember, when you sign up you DO have to CONFIRM your subscription (just good email practice) so watch your email for a few minutes and see if that comes through.  Open and click on the link inside to confirm your subscription which gives us permission to send emails to you.  Be sure to complete this step so you will officially be on my list!
Go ahead! Sign up now! Less than a week until the first email goes out!
Please share this news with your friends! Hover over and click on the Facebook icon below or any of the social sharing buttons. Invite them to sign up for my mailing list so they receive every issue of the 12 Weeks of Christmas!