The last few weeks have been extremely busy and now that the kids are all home plus one girlfriend the days have REALLY been extremely busy!!  It's been go, go, go and keeping things running at home…..no time for leisurely addressing of Christmas cards!  I did manage to finish these cards, with the help of my son's girlfriend, and when I get off the computer I hope to address them and get them in the mail…..at least they would be sent out before Christmas even if they won't arrive until after!  But if I get distracted with fixing breakfast or lunch or one more shopping errand..and did anyone make reservations for dinner tonight?  NO!…. if I don't get the cards in the mail, that's okay.  They'll either be late or I'll be ready early for next year!! 
 I always remember one Christmas party the kids and I were invited to at a neighbor's when they were very little on a Saturday morning and I REALLY had other Christmas things to be doing but I HAD to go to this party.  Another mother arrived and said that if going to this party meant her Christmas cards didn't get sent out, then so be it.  The party was SO lovely and fun and a time to share with the kids we knew and the other mothers, more important than the Christmas rat race we thought we had to keep up with.  Now we probably all raced even harder after the party, but at least we enjoyed the calm for a couple of hours!
So here is an assortment of Christmas cards, mostly copied from other cards I've seen here and there on all my sources.  If you need a last minute idea, I hope you can use one of these!
MERRY CHRISTMAS!!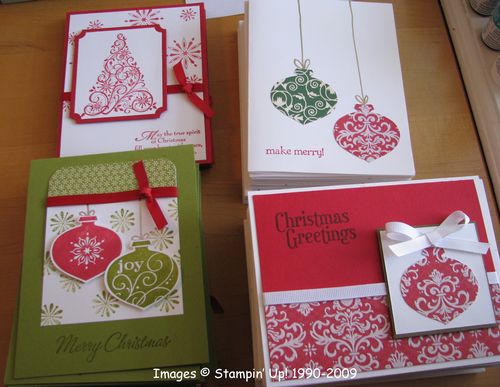 PS:  If you live in the Houston TX area and want to see some Christmas lights be sure to go out to Pecan Grove in Richmond where nearly every house is decorated, some spectacularly!  Eric's girlfriend and I (the only Christmas-light-lovers in the family!) drove out there last night and really enjoyed it!  Wish I'd had my camera, but take my word for it, it is magical to see a whole streetful of lights!