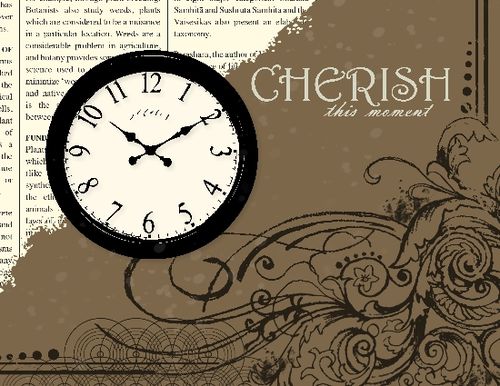 Images copyright Stampin' Up! 2012
Change your clocks! Daylight savings time is coming to an end! Tonight…or tomorrow…however you want to look at it…it's time to change your clocks back to Standard Time. If you are up at 2:00 am, turn your clock back to 1:00 am.  Or whatever time it is when you go to bed, just turn the clock back one hour…although then you might think "It's not so late after all!" and opt to stay up another hour!  This is the night my mother always loved…time to turn back the clock, or "fall back", and gain an hour!  An extra hour of sleep! Or an extra hour to stamp, if you want to think of it that way..and who wouldn't??! I know lots of us seem to have our creative peak very late at night! And once you start being creative, you really can't go to sleep for quite awhile!
To remind us all to change our clocks, I made this little card in My Digital Studio! I started with the First Edition designer series paper and Soft Suede card stock. Then I found the Torn Edges stamp to make the First Edition paper look old and torn. I found the clock stamp, put a circle punch behind it so you couldn't see through the clock, and added a decorative overlay for that corner image.  And in MDS2+ there's even a splatter tool, which I changed to a "watermark" color.  The sentiment was actually an embellishment that I found and used the new "recolor" tool to change it how I wanted.
If you haven't tried My Digital Studio yet, take advantage of the FREE 30-day Trial!