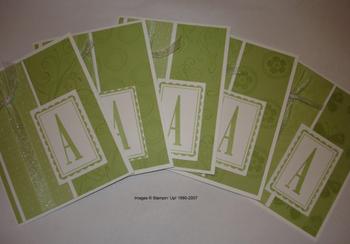 Here are some monogram cards I quickly made for my daughter, Amy, last night before she left to go back to California today. I think she asked me to make her some more months ago after I made a first set for her. Better late than never!
I used the retiring Letterpress Alphabet and Label Classics for the monogram. For the card itself I used Whisper White cardstock for the base and pieces of Certainly Celery Designer Prints from the pad from last summer. On solid green Certainly Celery I added some design using the fantastic stamp set Priceless, choosing a different stamp for each card, using Certainly Celery Ink. And to finish off the card I used the retired narrow white organdy ribbon. Click on the picture to see the cards in closer detail.
It was wonderful having Amy home over Christmas although the time goes by too fast. She is becoming quite the personal finance writer. She has always loved to write. If you would like to read the article she wrote for Forbes Media "Investopedia" click on this link: "Avoid Overspending This Holiday Season"