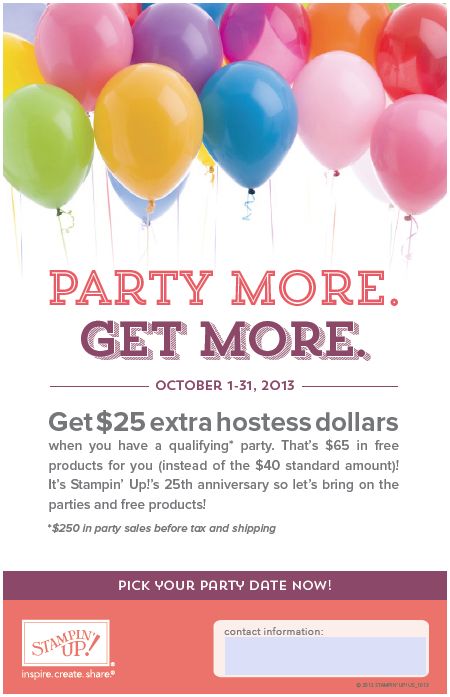 Celebrate Stampin' Up!'s 25th anniversary by receiving an extra $25 in Hostess Dollars to spend with a workshop of $250 or more OR your own order of $250 or more. Normally with a party or order of $250 you would receive $40 in Hostess Dollars to spend on any current catalog merchandise. Now you will receive an extra $25 for a total of $65 to spend!  Nice, huh?!
So much to pick from at Stampin' Up! these days! Stamps in wood- or clear-mount, photopolymer (clear) stamps, single stamps, Best of 25 Years stamps brought back from past years plus one new, digital stamp brushes, and even carve-your-own stamps! And don't forget the Cookie Stamps! Card kits and NEW card kits! Something for everyone!
It's even possible now to have your friends order under your name even if they can't come to your workshop or if they live far away.  I can add a code to tie your orders together so you can get the Hostess credit and they can order online and get their orders shipped to their own homes!
How would YOU like to spend your EXTRA $25 in Hostess Dollars from Stampin' Up!? Contact me if you would like to have a stamping get-together with your friends!