Whew! Everyday there has been so much to do to get ready for Christmas and now it has flown by already! I'll try to do a little catching up on some of my Christmas stamping projects.
Remember those cute little mailboxes that appeared early last year in the Target Dollar Spot? I used the white ones for Valentine stamp camp projects last February, but of course I had also picked up many red mailboxes with the idea of doing something with them for Christmas. So now it was Christmas time and what to do with them? Well, I needed several gifts for my demo and non-demo friends for our little Christmas party. After browsing the Splitcoaststampers Gallery I decided to copy the design by Diane Pappas for these gifts. She embossed the "snow" on top of her mailbox but I just used the Two-way Glue Pen and Dazzling Diamonds. It was beautiful and glittery! I enclosed a little treat bag of candy and made a little glass marble magnet to put inside.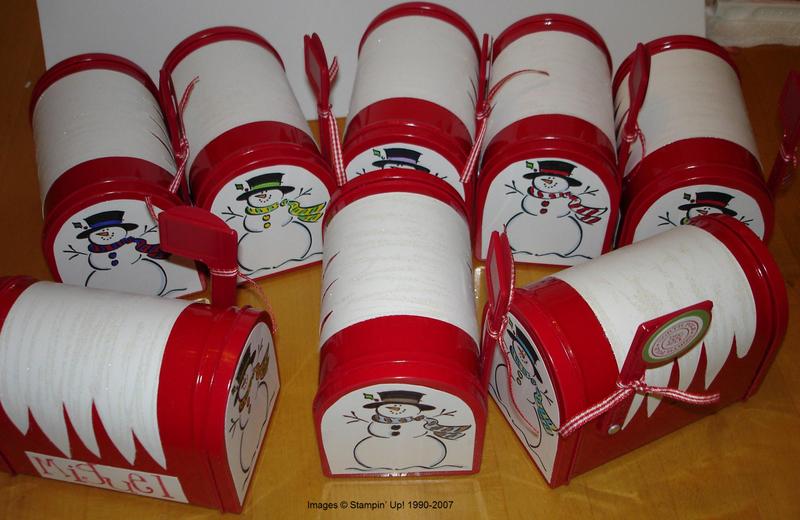 I still had red mailboxes left in my closet so what better way to get rid of eight more than to make some for my little nieces and nephews! My brother and his wife have adopted eight beautiful children internationally over just a few short years! It's always a fun challenge to come up with gifts for the kids and I thought these red mailboxes would fit the bill! Again I made the snow cover with Dazzling Diamonds (glitter, glitter everywhere!) and decided this was an opportunity to pay respects to Frosty, who is retiring in just a few days! Frosty was one of the first stamp sets I ordered after becoming a Demo to use at my first workshop! He fit perfectly on the mailbox flap! On the sides I stamped each of their names on white cardstock using the retired, but my favorite, Whimsical Alphabet. Inside the mailboxes I put the kids' gifts…necklaces for the girls and watches for the boys! A perfect fit! And maybe next year they can use their mailboxes for letters to Santa!