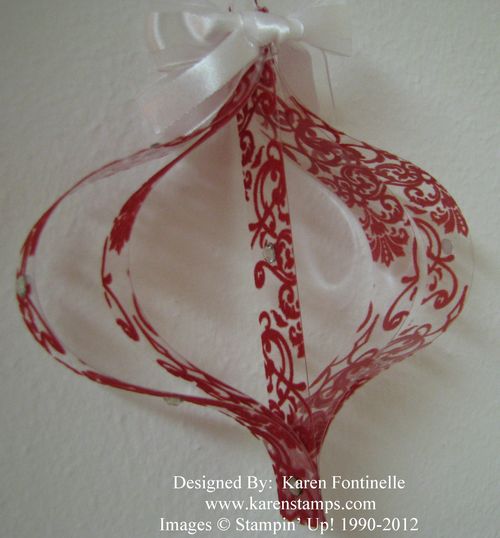 I had to play again with the design of the ornaments on the cover of our Stampin' Up! Demonstrator magazine called Stampin' Success. You can make these Christmas ornaments with just strips of paper! This time I decided I wanted a fancier one…I only intended to add some ribbon and maybe some rhinestones.  But once I pulled out the Candlelight Christmas Specialty Designer Series Paper, I noticed the beautiful flocked clear window sheet "paper"! I thought that would make something pretty! So here it is!
Once I made the ornament, I attached a bow at the top with some mini glue dots and added just a few Rhinestone Jewels here and there.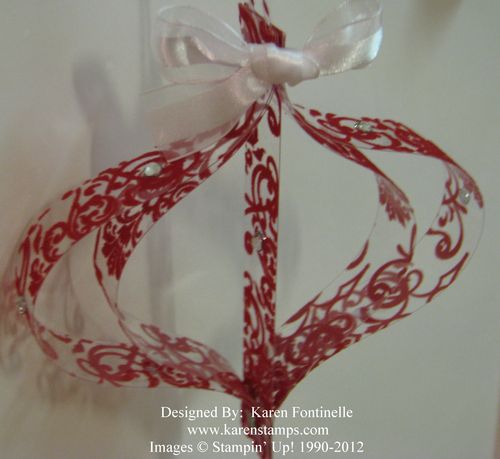 My strips this time were 4 3/4" for the center one, two strips 6" each and 2 strips 7 1/4".  I think you just need to play with the lengths of the strips to get the size of ornament that you want. These strips are only 1/2" wide. You can read my directions for how I put the ornament together on my post the other day here. I think you can see in this photo above that I put rhinestones near the top, middle and bottom of the outside strips and one on each side of the center strip. I used Baker's Twine for the hanging thread.  Just feed it in through the center of the ornament and pull tightly for it to come up to the top in between the strips.
I might not be done yet!  I think the next one I will try will have another set or two of strips!
If you want a pack of the Candlelight Christmas Specialty Designer Series Paper, you know where to go!  While you are there, check out the Merry Christmas special which includes the Candlelight Christmas paper, and also the Clearance Rack! New items were just added on Friday!  Although some products sold out the first day, there still are great bargains to be had, so don't miss out!