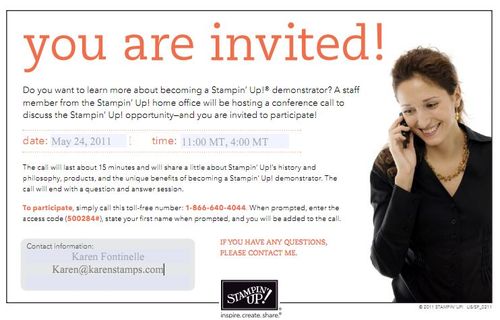 Click image to enlarge.
If you even MIGHT be interested in becoming a Stampin' Up! Demonstrator and starting your own business, if you are like me you probably want more information and want to think about it before you make your decision. (Not that there is anything at risk by becoming a demonstrator if you want to just jump in and do it!)  This Tuesday, May 24th and next Tuesday, May 31 Stampin' Up! is offering FREE opportunity calls to talk about the history and philosophy of Stampin' Up! and tell you about the opportunity to be a demonstrator and run your own stamping business!  The call is usually about ten minutes of information and then ten minutes of questions.
The calls will take place every Tuesday, February 22-May 31, at 11:00 AM (MT) and 4:00 PM (MT).
To attend this call, dial 1-866-640-4044 and, when prompted, enter the access code 500284#. State your name, and you will be added to the call. 
Space on these calls is limited and availability is first-come-first-served. You might want to call in a few minutes ahead of time to be sure to get in.
After May 31, Stampin' Up! will decide whether or not to continue these calls, so be sure you call in today or next week for sure to take advantage of this easy way to get more information on the Stampin' Up! opportunity! Besides, you may want to take advantage of the National Scrapbooking Month Promotion of getting a discount on the Digital+ Starter Kit.
After you listen to the call, please contact me and let me help you with any additional questions you may have.