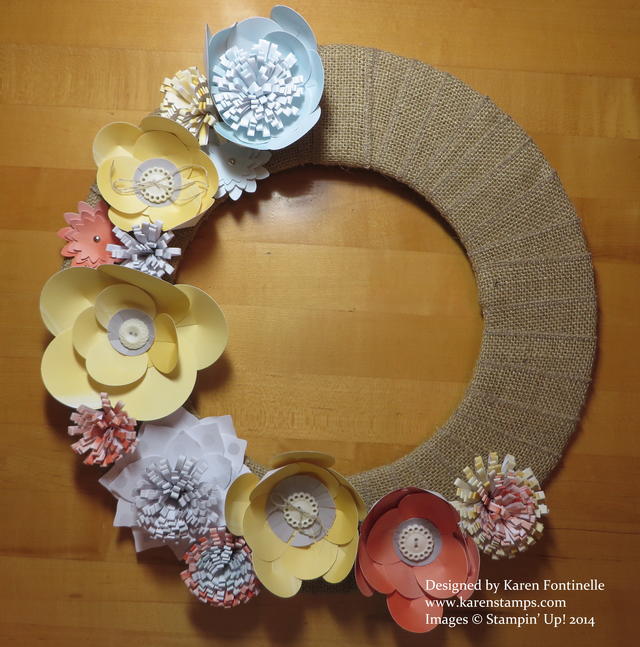 It was nice to have a kit with everything needed except hot glue to make this Burlap and Blooms Simply Created Wreath Kit. I thought it would make a nice wreath for Easter and spring by my back door where my Be of Good Cheer Curly Paper Wreath was still hanging! My favorite flowers on this wreath are the fringed ones. I didn't seem to have much of a knack for making the other ones! And I'm not sure I got the flowers placed in the best positions, but, I did get the wreath finished! And didn't burn my finger on the hot glue until near the end!  Be careful pushing the flowers down onto the wreath! And have a glass of cold water nearby just in case! It still turned out pretty and was an interesting new project. It's nice to have a kit and not have to think about all the supplies! It's available in the Occasions Catalog.
Speaking of supplies, the Stampin' Up! retired list comes out on Monday! And Stampin' Up! is offering FREE SHIPPING (excluding expedited shipping) on all orders Monday, April 21 through Friday, April 25! When you get a chance this busy Easter weekend, be sure to start making out your list of anything you might want or that you think might retire so you will be ready to take advantage of this free shipping opportunity!

Be a FAN on my Stamping With Karen Facebook Page where I can try to keep you updated and what's available and what's not and what's going on during this busy time at Stampin' Up!