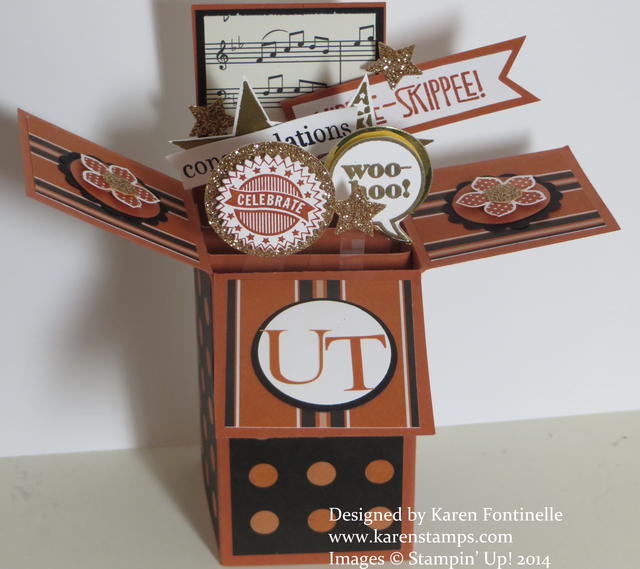 I think these pop up box cards are almost like a present in themselves so if you are looking for an idea for a special graduation card, I think a pop up box graduation card would be a good choice! It's hard for me to believe that it is the end of the school year for most students and time for graduations.  I thought the New Year just got going! Some of the materials I used on this card are retired Stampin' Up! products, but some are current, and the designer paper is actually from the UT bookstore, maybe several years ago, in a scrapbooking package. I've made quite a few UT graduation cards and announcements the last several years with a pack or two from the bookstore! So if you are looking for school colors or designs, that is the place to look.
After making the pop up box, if you plan on putting it inside a regular size envelope, just be careful as you place whatever images and things you attach to the inside braces. Make sure they don't stick out too far to the side or too far out the top.  Sometimes if you fold it one way, they do stick out but if you fold it the other way, they are all tucked inside.  So be sure to check that.  Then just stamp whatever congratulatory, fun, or personalized greetings and images that you want to put on the card. I didn't get a very good photo of the inside with all the things I put inside, but you can get the idea.  Every card should be different anyway when you personalize it.
Here is what the card looks like folded flat with a belly band around it to decorate it and to keep it folded.
Have fun designing your own pop up box card, whether for graduation or for some other fun occasion!  The sky is the limit!
For any stamping supplies, visit my Stampin' Up! Online Store HERE.
Check out the new Weekly Deals TODAY!  Click HERE!