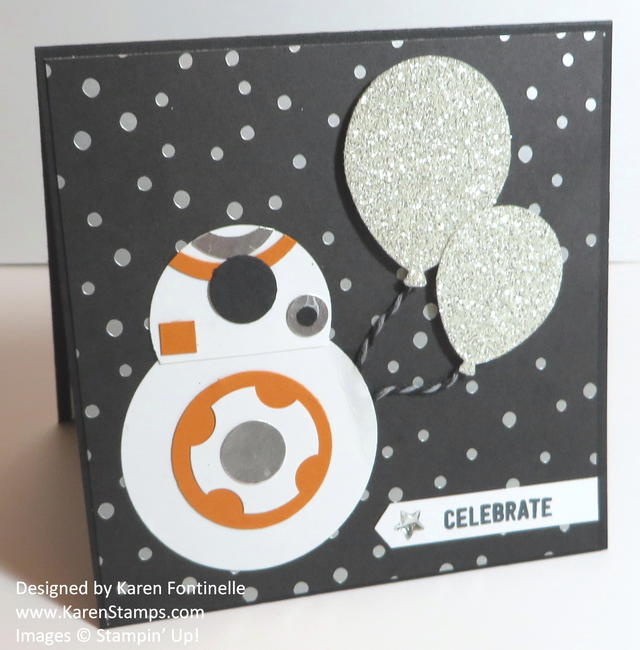 A few weeks ago I came up with this Star Wars Inspiration BB8 Punch Art Handmade Birthday Card  for my son-in-law's birthday and I liked it so much I made another one for my son's birthday a few days later. By now they both have received their cards in the mail so it's safe to show it on my blog!
When you have a Star Wars fan in the family (who even appreciates your handmade cards), you just have to come up with a new idea for each birthday or occasion. After searching the internet of course, I came up with this card of BB8, one of the characters in the Star Wars movie that came out last year. The background paper is the foil embossed paper in the Halloween Night Specialty Designer Series Paper.  I think it is perfect for this card. To make BB8 I used several circle punches. I probably used the 1 3/4″ Circle Punch for the lower body, maybe the 1 3/8″ Circle Punch for the upper body, and then smaller punches for all the details.  I'm sure you can try the punches you have and see what fits on your card the way you want it!  Of course the birthday balloons are punched with the Balloon Bouquet Punch and punched out of Silver Glimmer Paper. The greeting piece is punched with the Classic Label Punch and I added a silver star from the Metallic Enamel Shapes.  
I love these Enamel Shapes and ordered the Bundle of all of them yesterday on the 24-Hour Flash Sale on the Online Extravaganza.  You missed that but you can still add them (not discounted) to your Online Extravaganza order any day this week until November 28! Don't miss out on anything else!  And be ready for the Flash Sale on the last day, Monday November 28!