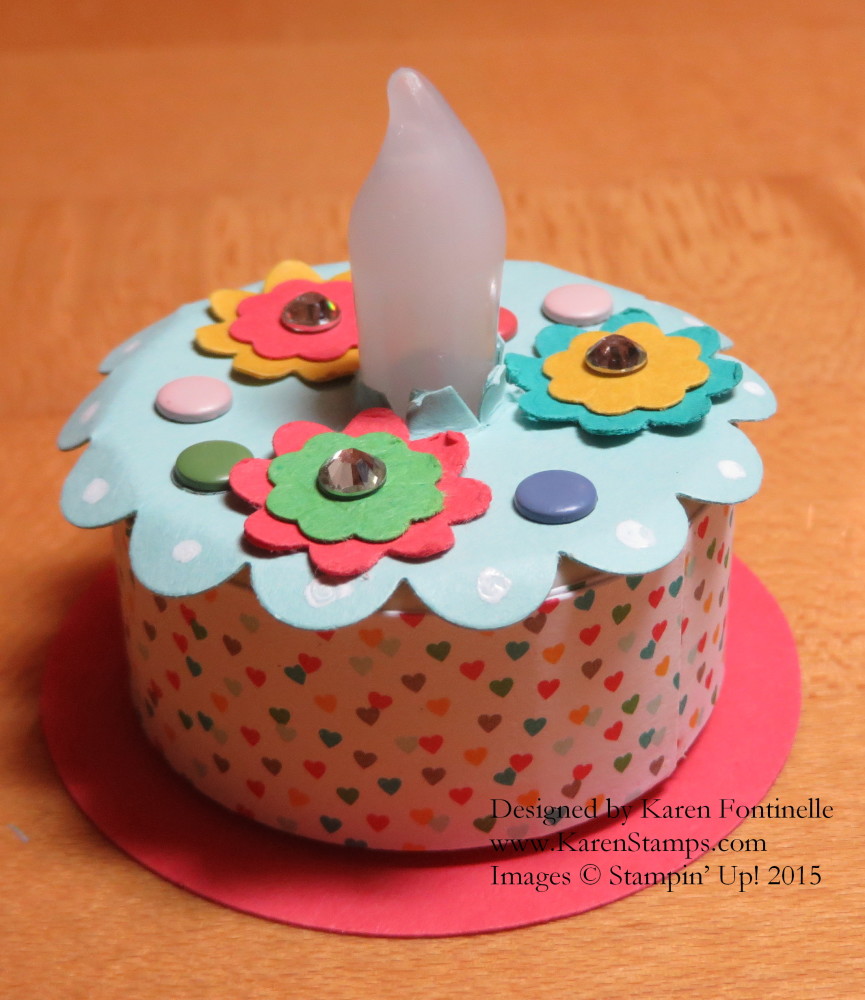 When I needed a fun little gift for a friend, I thought of this cute tea light birthday cake! It's so easy to just wrap a piece of designer paper or washi tape around the side of the tea light and then decorate the top with a 1 3/4″ Scallop Circle Punch. Poke a hole in the center of the scallop piece, cut some little slits so the scallop will slip over the light bulb, then decorate to your heart's content! I punched the little flowers with some retired punches, but you can use whatever you have in your stash or perhaps stamp a design on the top. I also added some Candy Dots and Rhinestone Jewels, plus a little doodle dot on each scallop edge with my White Signo Uni-Ball Gel Pen. There are lots of fun ways to decorate these little tea light cakes! You just have to purchase some tea lights at the craft store and play with them!
I also made some kind of box to package the cake in, but I failed to take a photo so we're out of luck on that one!
The only tricky part of this project is the little switch on the bottom of the tea light.  If you want to set the tea light on some kind of base, perhaps resembling a plate, then you have to cut or punch a hole to allow access to that switch (and if yours has it, don't forget to pull out the little piece of plastic protecting the connection so that it won't get accidentally turned on before you buy it!).
I added a Metallic Foil Doily in Gold for the presentation! I think I adhered the Watermelon Wonder card stock to the base of the tea light but then just added a tidbit of adhesive for the doily to hold the cake in place in the box.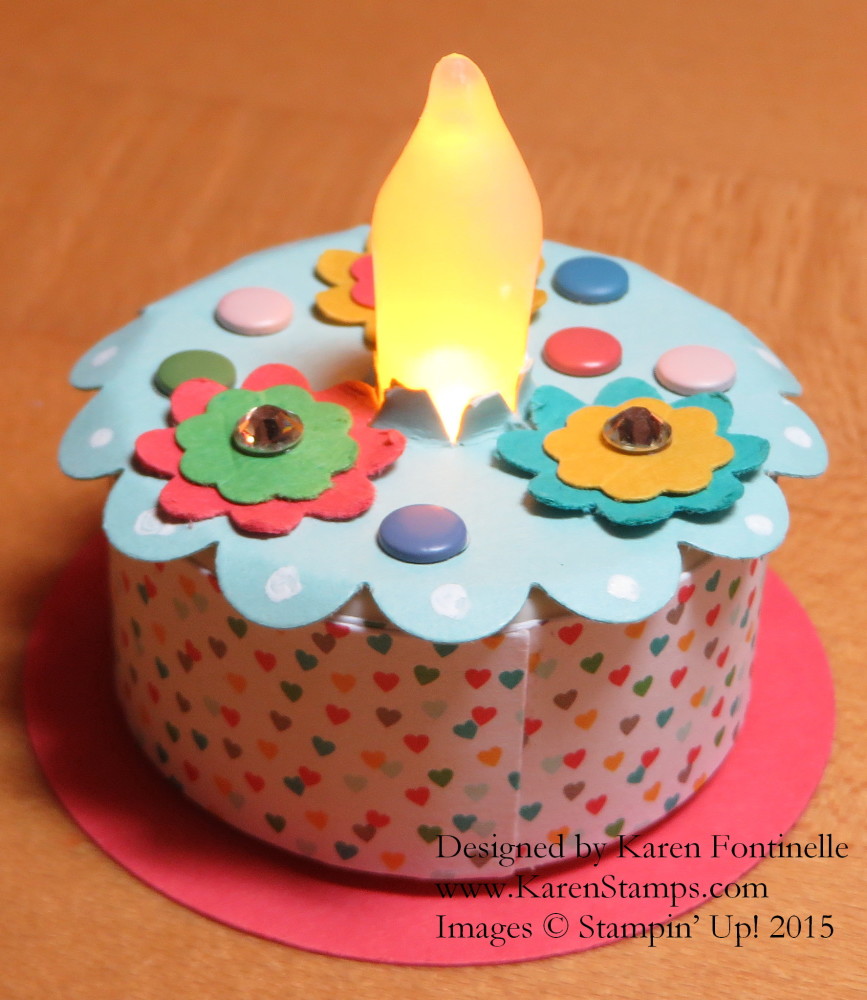 Here you see what it looks like with the tea light lit. I also happened to photograph it from the backside in my rush, but at least you can see how I adhered the piece of paper from the Cherry on Top Designer Series Paper Stack.
This is a really fun project to make, quick and easy really. Just keep a few cheap tea lights on hand and you'll be ready to go! It's always good to have things on hand that you can make an easy gift or card with and impress your friends and family!
For the best in papercrafting supplies, please visit my Stampin' Up! Online Store! Or contact me if you need assistance or would like me to put your order in for you. Try this Tea Light Birthday Cake project soon!