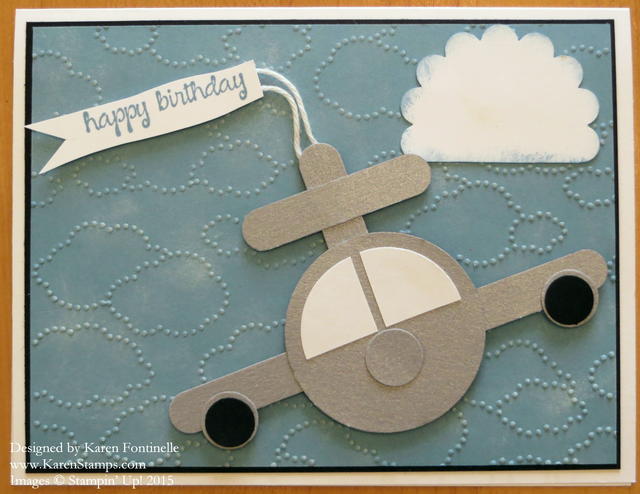 Now that my brother's birthday has come and gone, I can post the Airplane Punch Art Birthday Card I made for him. The background layer of the card is made with the Cloudy Day Embossing Folder (retired), but an alternative thing you can do is just sponge some White Craft Ink onto a blue background to make some wispy clouds in the sky. I even have one "cloud" in the sky made with one of the Scallop Circle Punches, depending on which size you want to use.
The airplane is made with the Word Window Punch for the wings and the tail. The front of the plane is made with one of the circle punches.  I forget which size! But you can experiment and see which size works for your airplane! For the windshield, use a smaller circle punch and cut it in quarters.  Use two of the quarters for the window. Then, of course, the plane nose and jet engines are made with two small circle punches, I probably used the 1/2″ circle or so. For the body of the plane, I used some retired Silver cardstock but you could use Silver Foil for a shiny plane or one of the gray colors. I "tied" on a banner like an airplane pulls for advertising for the birthday greeting and just cut the banner by freehand.
A fun and easy birthday card to make.  You could use a design like this for a birthday party theme. Try the Airplane Punch Art Birthday Card and customize it!
If you want to make a card like this and need some papercrafting supplies, just shop at my Stampin' Up! Online Store.