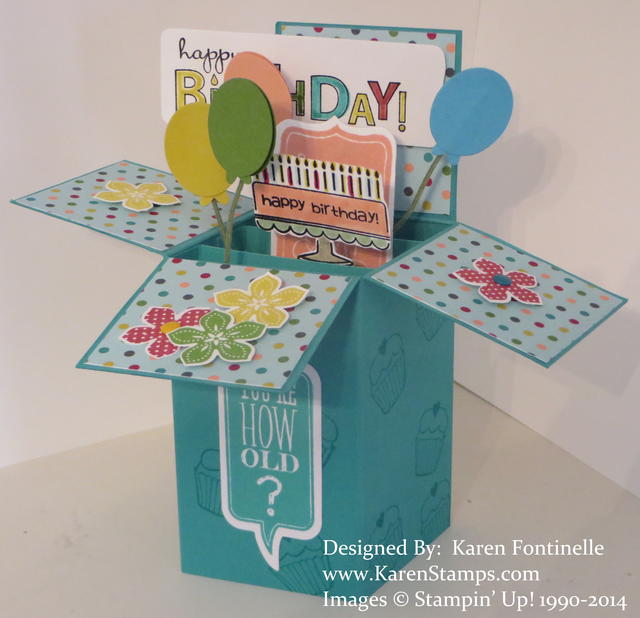 I've been making a lot of these popular pop-up box cards lately! They're not difficult and are quite cute to make. If you make them the right size, they will fit in a regular size envelope when folded flat. There are two little folded strips inside the box to which you attach whatever stamped images you want to be part of your card. I used several different stamp sets and greetings on this card. You can leave the back piece of the box unfolded and put a long layer on the back if you want to write a greeting.  But you don't have to. Put more layers of designer paper on the box or not.  It's all up to. you.
These cards are really fun to make! Remember, it folds flat and fits inside an envelope as long as you are careful where you place your popping up images.  Lay the card on your envelope so you see how much space you have.
Start with half a sheet of cardstock like always.  Lay sideways in your Simply Scored Tool.  Score at 2″, 4″, 6″, and 8″. Turn the other way and score at 2″ for box flaps. Then cut those scored sections up to the score line.  The little 1/2″ piece on one end will be the part you attach to the inside of the box. Use Sticky Strip or Tombow Multi Glue.  The little braces that go inside are two 1″ x 3″ pieces, each scored at 1/2″ and 2 1/2″. Those fit inside, the trickiest part! Then attach whatever decorations you want for your card!
Remember, Sale-A-Bration ends March 31.  That's a week from today!  Just enough time to make your list and get your order in!  Don't procrastinate until the very last minute!
Shop anytime at my Stampin' Up! Online Store! If you prefer not to order online, please contact me, email Karen@KarenStamps.com, and I will be happy to make arrangements with you and put the order in for you.
Also the special with subscribing to Paper Pumpkin ends March 31st also! Get a pack of FREE MARKERS with your Welcome Kit!  Your also receive a free clear block for your stamps with the Welcome Kit to use on future kits!  It's a papercrafting kit in a box, easy to do, quick and simple, unique, exclusive to Paper Pumpkin, and a surprise in your mailbox for only $19.95 which includes shipping!  Just keeps getting better!