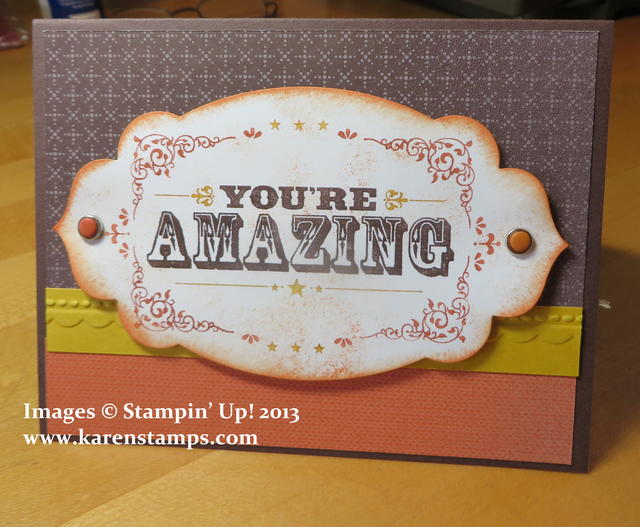 Lots of days I can have or see hundreds of ideas for cards and  stamping projects I want to make, but sometimes when I need a card for someone special it's like I've never stamped before and can't think of a thing to make.  Does that ever happen to you?! Sometimes I can look around in all the usual inspirational places and not see anything I like, just because I NEED something right then.
Cards for guys always seem a little harder to come up with, although they really shouldn't be. Often it's just a matter of changing the color or the paper or using less bling or more texture. Anyway, when I needed a card for my son for his birthday I found this one at StampingSchool.com. I used the "You're Amazing" greeting on the front of the card from the stamp set You're Amazing and used the Big Shot and the Apothecary Accents Framelit to cut it out. Love, love, love the little Candy Dots and the Candy Dot Brad Bases (or the Candy Dots by themselves!). While the sample I was copying used a more feminine designer series paper, I changed it to our current Sweater Weather Designer Series Paper.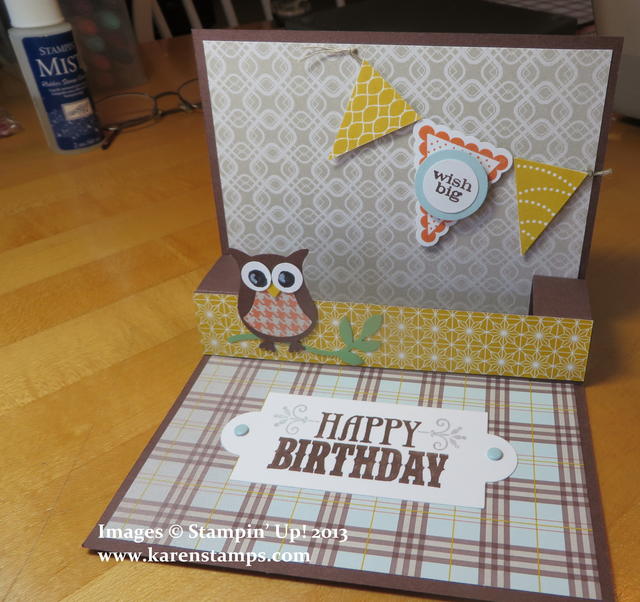 The inside of the card is a pop-up!  And it's made the old-fashioned way, with two little strips of paper making a box shape on each side of the card hidden by a front panel that you can then add things to so that it pops up. I copied the sample pretty closely except for the greeting and the designer paper. Then if you like you can stick a gift card, check or cash in that opening or even engineer it to have a pocket, or any other design along the pop up portion!
This was a good male birthday card to make.  It could be for anyone, but the Sweater Weather Designer Paper makes it look like fall and more masculine.  With a whole pack of paper, you can choose any of the patterns and know they will look good together because Stampin' Up! has done all the work of coordinating colors and patterns.  And did I mention that I love the Candy Dots??!!!
To order any of these supplies or papers or stamps, just go to my Stampin' Up! Online Store.
*****************************
And it is Day 4 of Digital Scrapbooking Days over at Stampin' Up! website for My Digital Studio! Choose this Modern Medley Overlays Kit digital download for 50% off today only! Click on the image below for more information and to shop for this download.
Visit the website www.mydigitalstudio.net (you do have to sign in) for more information about using this download and tons of information about My Digital Studio.