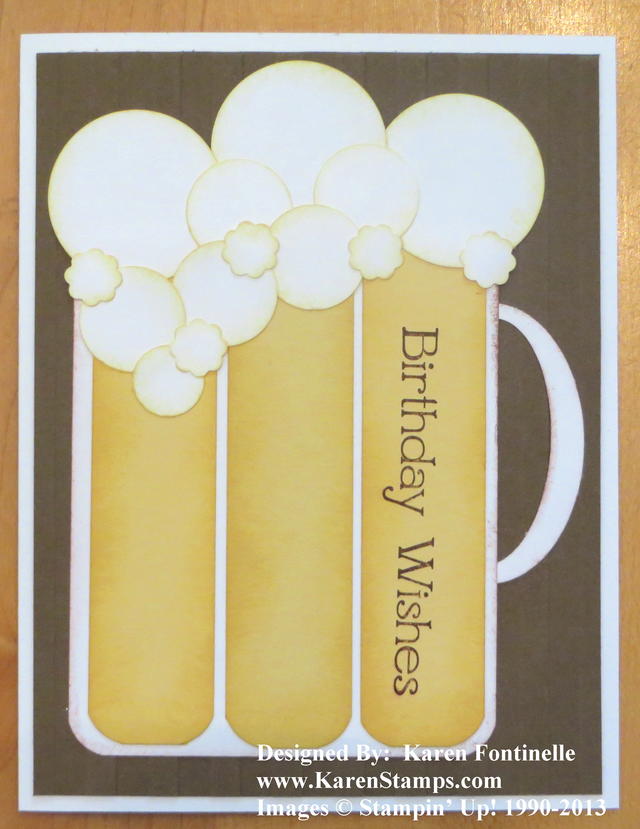 Yesterday was my husband's birthday so of course I launched a search for masculine cards and found this birthday beer stein card idea on Pinterest. I copied it exactly except for the greeting. There are other versions similar to this but this one was made by a demonstrator named Tammy.
You'll need a piece of Whisper White for the card base and Soft Suede for the layer. Mine is embossed with the Stripes Embossing Folder (hard to see in this photo!) but you could use something different or leave it plain.  The beer stein is a piece of 3″x 3 3/4″ Whisper White with the bottom corners rounded (you can use the new Envelope Punch Board!) with three strips of So Saffron 7/8″ x 3 1/2″, again with the bottom edges rounded.  I stamped the greeting from the stamp set Four You.  Everything is sponged with a little bit of ink around the edges on the card.
Then for the "punch art" part!  Make the beer foam bubbles with three circles from the 1 1/4″ Circle Punch, five circles from the 3/4″ Circle Punch, one circle from the 1/2″ Circle Punch and five scallops from the little scallop punch in the Itty Bitty Shapes Punch Pack.  That's what I used but you could certainly use lots of other things to make the bubbles, such as other scallop punches or circle sizes.  The beer stein handle is the Large Oval Punch, then punched over with the Extra-Large Oval Punch.
It's fun to make your own birthday cards for your friends and loved ones!   When you make handmade birthday cards, you can personalize the cards for that person.  My husband might not be a big beer drinker, but what he really likes is to pick out assorted different beers to try, in stores where you can do that. So while I saw lots of masculine card ideas and birthday card ideas I easily could have used for him, I thought the birthday beer stein card idea was one he would enjoy! I think it is important to send happy birthday wishes to people, especially after enjoying my own best birthday ever!
Need any Stampin' Up! supplies?  Please come shop at my Online Store!