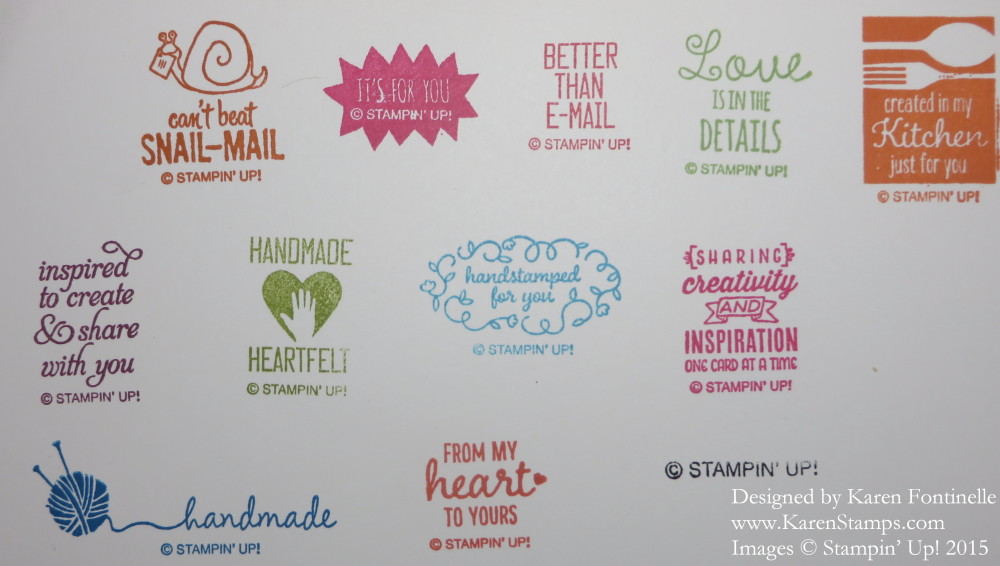 This is the new stamp set from Stampin' Up! called Better Than E-Mail Photopolymer Stamp Set. It is designed to help all of us comply with the Stampin' Up! Angel Policy. Since Stampin' Up! images are copyrighted, you must stamp anything created for sale using their images with one of the Stampin' Up! copyright stamps, which have always been available in the catalog.  This is a new set that serves the purpose and I think has the most versatile and fun images.  You can read about the Stampin' Up! Angel Policy HERE.
I think even if you are not selling your cards, it is fun to put a stamp of one kind or another on the back of the card.  Don't we all automatically turn any card over and see who made it, even one of the big card companies?! If you made the card, why not have a way for you to take credit and apply your personalization to the back of the card?!  Stamp one of these stamps on the back of your handmade cards and people will see you used Stampin' Up! stamps and materials, plus you can express your own personal message with the little saying.  Often I add my name or initials and maybe the year in my own handwriting somewhere around the angel stamp on the back of the card.
Give your cards that professional finished look by adding an angel stamp to the back from the set Better Than E-Mail and consider personalizing it further by signing your name and putting the date by the stamp.
Order your stamp set today at my Stampin' Up! Online Store HERE.