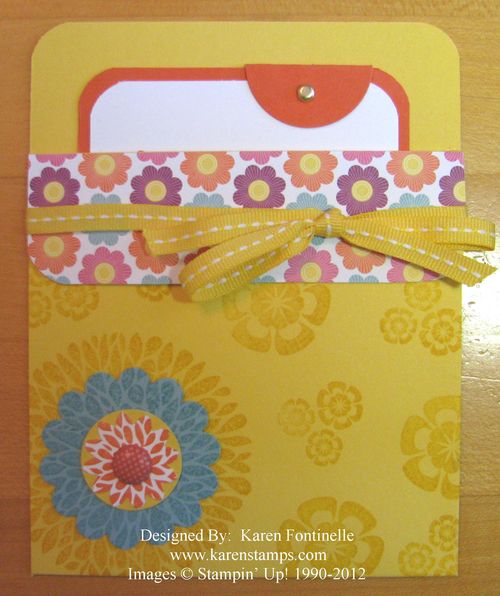 For the second day of summer, I thought a bright and cheery pocket card might be fun! Pocket cards are really easy to make and I think often take your card-making up a notch.
Supplies
Stamps: Betsy's Blossoms (p. 72), Perfectly Penned (p. 132)
Ink: Daffodil Delight #126944, Tangerine Tango #126946, Baja Breeze #126960

Paper:  Daffodil Delight #119683, Tangerine Tango #111349, Baja Breeze #111352, Whisper White #100730, Floral District Designer Series Paper #126919
Accessories: 1/4" Stitched Grosgrain Ribbon #126872, 1 1/4" Circle Punch #119861 (for tab), 1 3/4" Scallop Circle Punch #119854, Boho Blossoms Punch #119858, 1" Circle Punch #119868, 3/16" Corner Punch #119871, 3/16" Metallic Brads #119741, 3/8" Designer Printed Brads #122940
Directions
1. Cut pocket card 4 1/4" x 11".  Score at 5 1/2" and 1 1/4". Cut the insert 3 1/4" x 5" (if you want a layer cut 3" x 4 3/4").
2. Fold the card stock into a pocket, using adhesive along the sides.
3. Round the corners of top, flap, and insert with punch.
4. Stamp the front of the pocket card.
5. Adhere the designer paper to the flap, trimming if necessary. Tie ribbon around flap and adhere flap down.
6. Stamp the insert. Punch the 1 1/4" circle, fold in half and push brad through front of circle and insert. Apply adhesive to back of half circle and adhere to back covering back of brad.
7. Stamp and punch out layers for flower on front, inserting Designer Printed Brad in center.  Adhere flower to front of pocket.