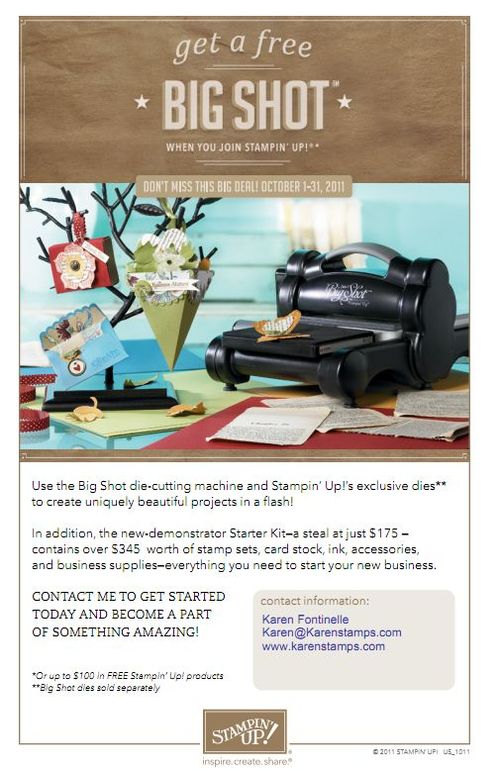 Yes, you will be a Big Shot if you become a Stampin' Up! Demonstrator because that's how much Stampin' Up! values their demonstrators. I can tell you, but you will see for yourself when you become part of the Stampin' Up! family and participate in your own stamping, scrapbooking and/or digital papercrafting business with Stampin' Up! and especially when you attend any Stampin' Up! events, like Regionals or Convention.
You can become a Stampin' Up! Demonstrator any day, but if you do it on or before Friday, Nov. 11, 2011 you will be able to order a Big Shot die-cutting machine…or…if you already own one….order $100 in free products…perhaps more dies and things to use with your Big Shot! This offer began in October but was extended until November 11th.  So time is running out!  Don't put it off!  Give it a try!  There is no obligation to do anything more….but you just might find that you LIKE being able to run your own business and have fun while you do it!  After all, the holidays are coming up fast and this could provide a little extra cash for those holiday gifts!
I'm happy to talk with you about becoming and being a Stampin' Up! Demonstrator!  Just email me at Karen@Karenstamps.com and we can set something up.  
If you find you are ready, you can join online in minutes! After clicking on that link, click on the "Join Now" button on the left of that web page.  Be sure you are seeing my name in the upper right corner. You can watch the video or sign up right away.
To see the Starter Kits available to you for only $175 (free shipping!), just click HERE.  Click on the picture below to see the list of contents.