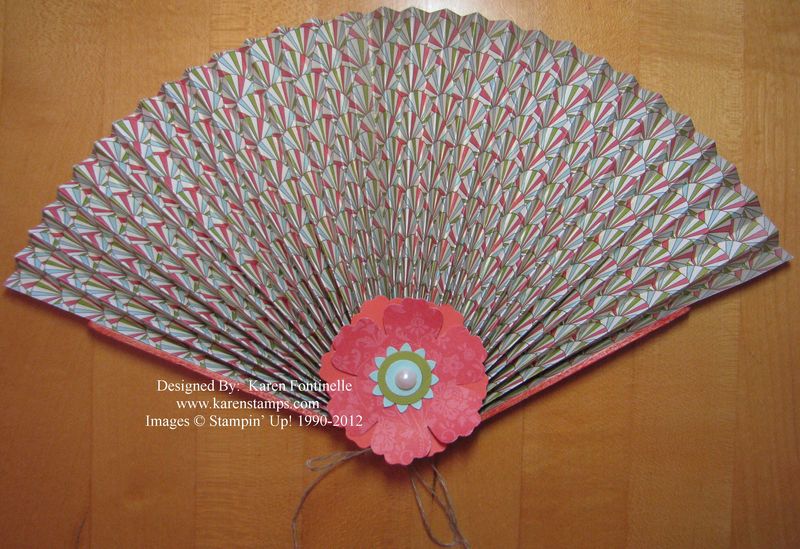 It's always hot, humid and miserable in the summer time in Houston, TX…and summer here goes from about May until….who knows….maybe October or November! But this is the third day of record-breaking heat here!  The temperature rarely gets to 100 degrees (although you might argue how much better is it at 95??).  But even Galveston, right on the coast, broke a long time record the other day at 100. Of course it all depends on where you live and where they read the temperature, but yesterday it was 102 here.  And the temperature didn't drop much late in the evening either.  The night before when I checked it was still 99 into the evening.
So with this awful, record-breaking summer heat in Houston, I thought I would make a paper fan! Even in a comfortable, air-conditioned house with the shades partially drawn to keep the heat out, one can still use a little breeze now and then….and heaven forbid if the power went off for whatever reason!  Yikes!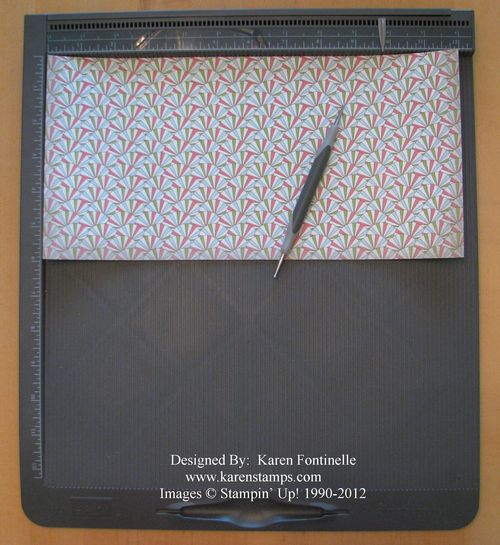 I started with a 12"x12" piece of designer paper (in this case I used a piece of the Sale-A-Bration paper Everyday Enchantment) which I cut in half (check your pattern to see which way it goes on both sides before you cut!). I found two popsicle sticks in my craft closet which were 3/8" wide so I scored every 3/8" inch across the paper using the Stampin' Up! Simply Scored Scoring Tool. Score both halves of the paper so you have two pieces.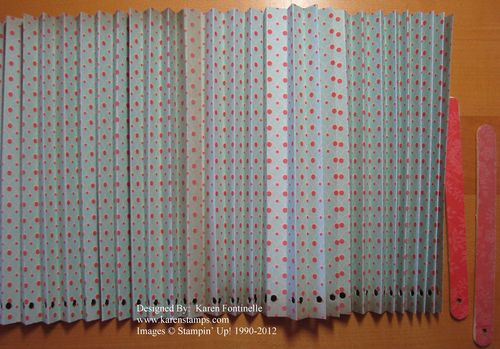 There's a lot of folding to do, back and forth!  I glued the two halves of designer paper together using Tombow Multipurpose Glue. Sad to say the Crop-A-Dile is retired, but I got mine out and punched the holes in small groups across the bottom of the fan.  You could use a small hole punch. I also covered the front of my popsicle sticks with matching paper and even colored the edges with a Stampin' Write Marker and glued one to each end of the paper. This just adds a little sturdiness.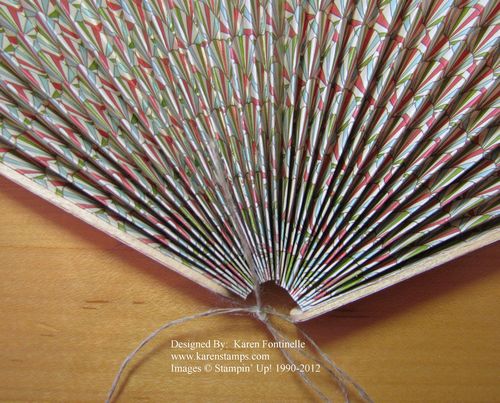 I used Stampin' Up! Linen Thread to run through the holes and tie tightly underneath.  You could use ribbon or string or even dental floss!
And just to jazz it up I added a pretty paper flower with my Blossom Punch to the front!
I hope I can just LOOK at my pretty fan and NOT have to use it!!!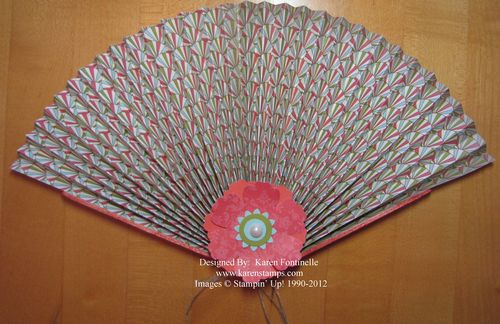 For any designer paper, card stock, stamps, punches or any other great Stampin' Up! products, please just click HERE to order online!