Oh my gosh, where should I start???!!!  My internet wasn't working this morning which allowed for a couple hours of napping on the sofa!  You just get so tired at Convention from all the excitement all of the time, (and maybe the travel and time change and altitude has something to do with it, too!) but you force yourself to keep going every minute so you don't miss anything and because you know it will end in a few days.  I'm not sure my brain is fully back to real life yet because I just ate lunch staring at a little yellow toy car taxi on my kitchen table and not even wondering why we have a toy taxi on the kitchen table!  The boys are in their twenties now so we don't have toy cars around the house anymore!  I guess my husband got it at the run he did on Saturday.  My mind was spinning while I was eating lunch trying to decide what to tell you first!  When I downloaded my photos last night I had over 2000!!
So here they are, one by one!  (just kidding!)
The Bags, Oh the Bags!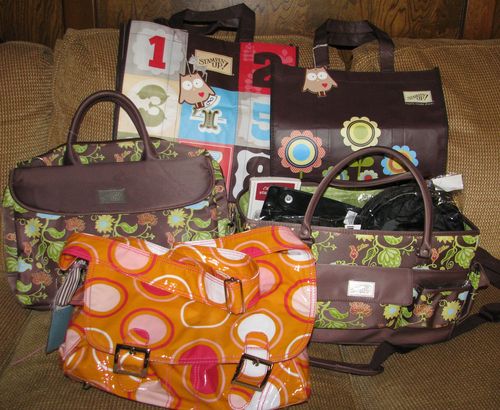 Once I arrived on Wednesday, the first thing to do was check-in over at the Salt Palace and get my bag and loot!  The bright orange bag is the one Stampin' Up! gave everyone which held out convention booklet, pin, pen, meal tickets, stamp sets for make & takes, etc. etc.  Easy way to identify another Stampin' Up! demonstrator all around town!
Next was straight to shopping at Memento Mall where we had already had a Sneak Peek beforehand of the Craft Tote, the bag you see already filled with stuff from traveling (it came empty!).  Lo and behold if they weren't also selling a matching laptop bag…..not that I have a laptop!….but you got $7 off if you bought both and who wouldn't want a matching set?!!  Maybe I can put paper or catalogs in that!  And then there were the cute brown bags, like the ones they had last year made of recycled material or something.  At first I only bought the one with the flowers….until the next day when I saw ladies carrying the one that matches the Play Date Designer Series Paper that looked so cute in use!  Aren't the owl tags on the bags the cutest things?!!
And, of course, at Memento Mall there were other things to buy!  Had to get a new charm, new pens, STAMPIN' UP! RULERS!, Stampin' Up! pop-up trash cans, tee shirt, salt water taffy with Stampin' Up! wrappers, Stampin' Up! Christmas ornament, a pack of sample pages of all the designer paper, probably more things, too!
Flower Power Party
Later that evening was the Flower Power Party!  Most everyone dressed up at least just a little bit in the 60's Flower Child style!  Some really went all out!
Here is my friend Nona and I with Mark Jessen, Stampin' Up! Senior Curriculum Developer.  Mark has really dressed the part!  You can't see my original mood ring I found in my drawer!  Stampin' Up! also passed out some beads to wear!
Here are some random pictures of the party!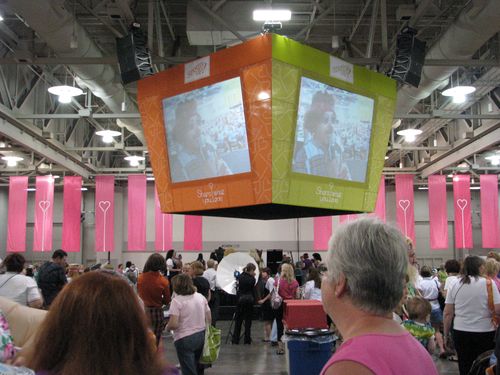 In the Gathering Place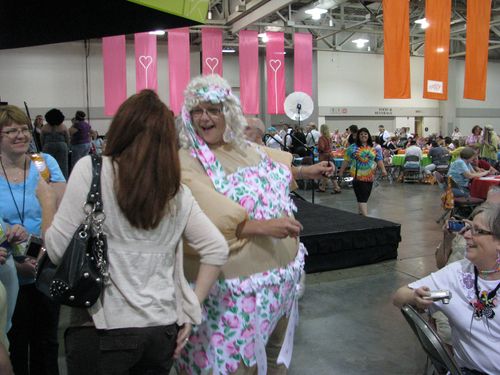 A crazy costume!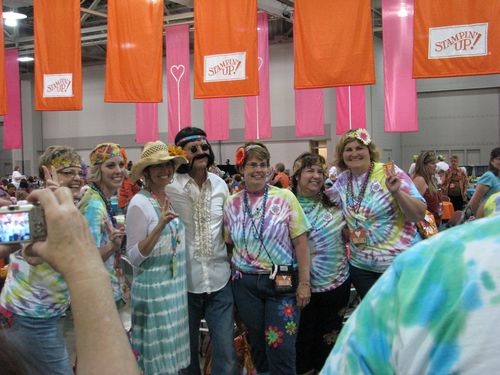 Shelli Gardner with a group of demonstrators!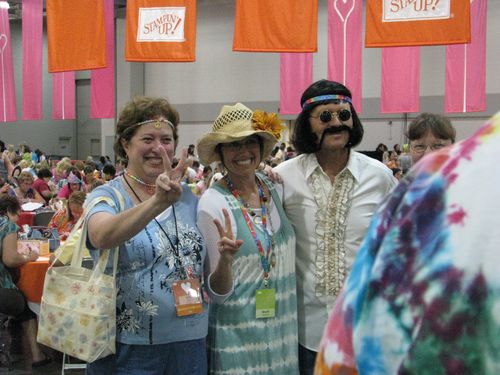 Another photo of Shelli Gardner at the Flower Power Party!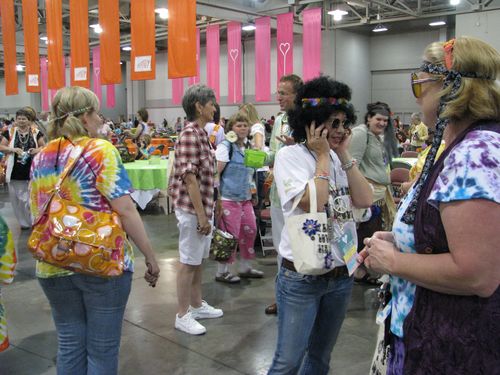 Demonstrators having fun at the Flower Power Party!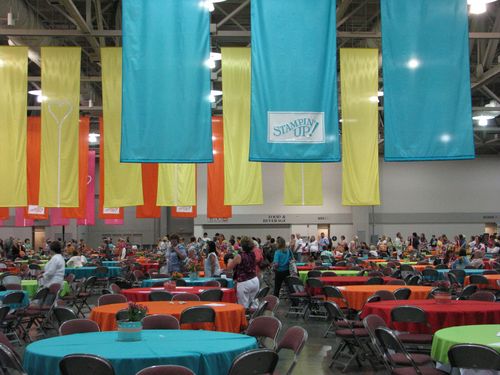 The Gathering Place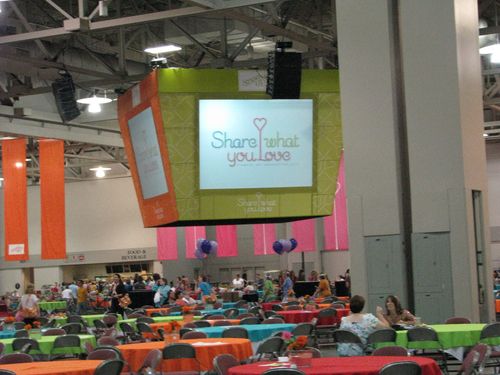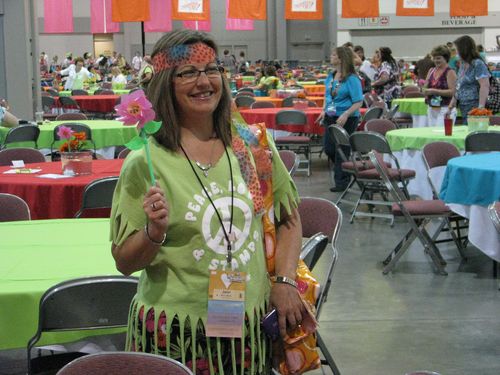 I don't know who this demonstrator is, but we loved her costume!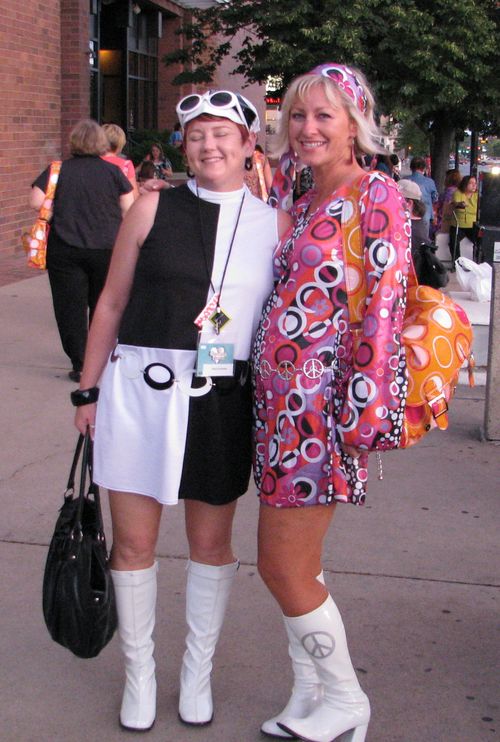 Don't know who these demos are either, but wow, did they have great outfits!  I'm sure I had  a dress like the black and white one, plus white boots!!  Such a fun night!
Besides the tryouts for the Stampin' Up! game show, the face painting, the hula-hooping, the prizes, etc. going on, there were also several demonstrators giving fabulous demonstrations of projects from birthday party to wedding to baby to easy workshop projects to vintage…..all wonderful!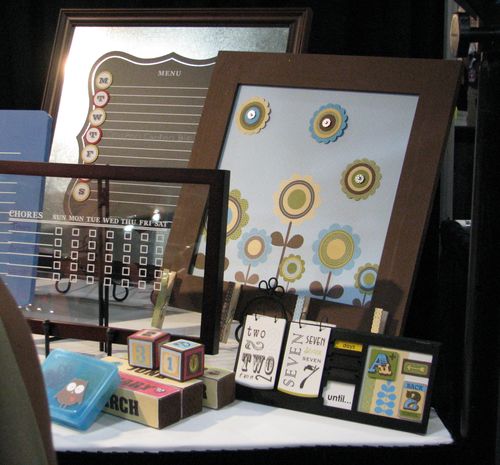 I think my computer is tired from uploading photos so I will stop here!  More tomorrow!