Time is sure flying by since Sale-a-Bration started in January soon after Christmas. Seems like only yesterday, doesn't it?! And even though we knew it was a long promotion, Sale-A-Bration is so much fun getting free products that it is hard to believe that it is going to end March 31, in just ten more days!
In case you are new and hearing about Sale-A-Bration for the first time, Sale-A-Bration is the biggest promotion from Stampin' Up!  With every $50 purchase, you get to choose a FREE Sale-A-Bration product from the special brochures. There is the original SAB Brochure, the second release with three more products, and today — a few more items to choose from! See below!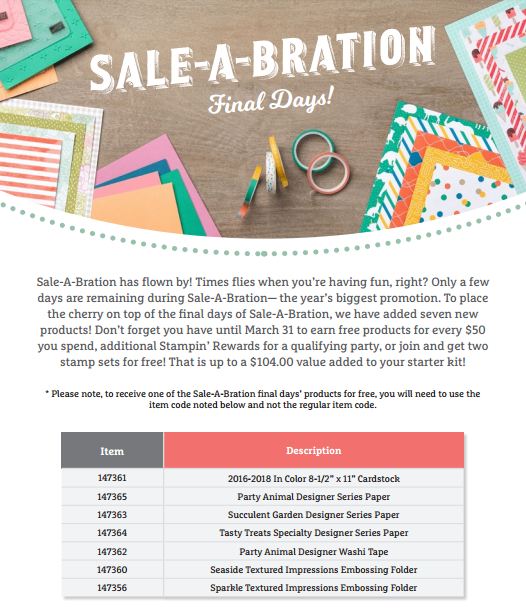 Here are several products from the Stampin' Up! Catalog and the Occasions Catalog offered now as additional Sale-A-Bration choices for the last days of Sale-A-Bration! If you have already placed orders and chosen Sale-a-Bration items, you might like a few new choices! The bad news is that a couple of Sale-A-Bration choices have sold out and are no longer available:
The Card Tin (143833)
 6″ x 6″ Glimmer Paper Assortment Pack (143831)
Also, the Ribbon Metallic 3/8″ Combo Pack is low on inventory. It is one of my favorites!I
You must use the given numbers for the products in the flyer above, not the regular catalog numbers, in order to receive these as free Sale-A-Bration items.
Besides free products, there are other benefits during Sale-A-Bration you may want to consider! Get some orders together with friends or place your own large order and  get extra Hostess Rewards.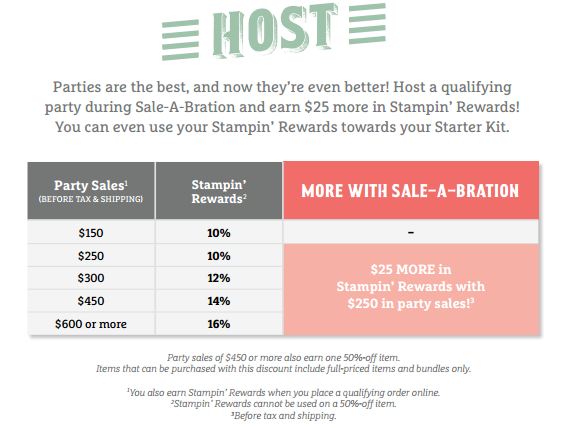 As you can see, with an order of $250 or more, you will receive an EXTRA $25 in Stampin' Rewards. This can be just your own order or you can go in with friends.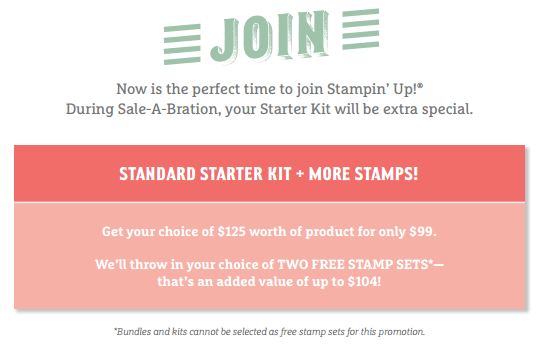 I hope you will contact me if you have any questions about perhaps joining Stampin' Up! and starting your own business. It can be a rewarding opportunity, both personally and professionally, whether you choose to work hard and build a highly successful full-time business or whether you just order for yourself and possibly a few customers. If you love Stampin' Up!, you will love being a Stampin' Up! Demonstrator! Read more HERE for some basic information about joining Stampin' Up!. I'm happy to answer the additional questions or concerns you will have. During Sale-A-Bration, through March 31, you will get to choose two free stamp sets in addition to the contents of your Starter Kit.
Now it's time to get your Stampin' Up! order together and choose your FREE Sale-A-Bration products with EVERY $50 increment of your order! Don't delay, because more of your choices could become unavailable. But now you have some nice additional products to choose from!