It's August 1st and an exciting day at Stampin' Up! There is a Big Shot Bundle Promotion starting today, plus the rest of the Blendabilities markers are available to all!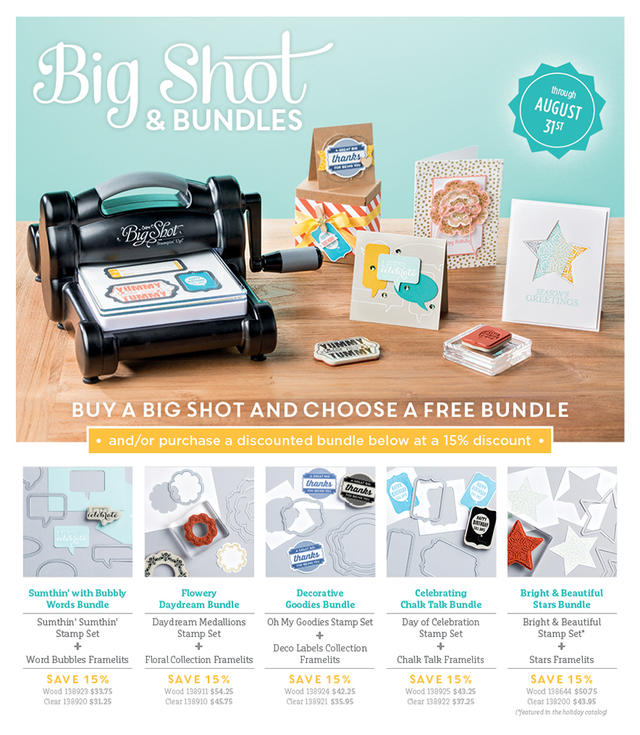 I use my Big Shot Die-Cutting Machine almost everyday on lots of projects! I couldn't do without it! If you don't already own one, I think it would really enhance your papercrafting experience!
But if you do already own a Big Shot or similar machine, you can order any of these bundles and save 15%! In case it doesn't jump out at you, the Bright & Beautiful Stars Bundle has the new Stars Framelits that just came out in the new Stampin' Up! Catalog AND comes with the Bright & Beautiful Stamp Set that WILL be available in the upcoming Holiday Catalog! Get a Bundle and get a Sneak Peek! Maybe even a head start on your Christmas cards and decorations!
Blendabilities!!
As you know, we have had several colors of the new Blendabilities alcohol markers available, but as of today, August 1st, ALL the colors are available to you!
Here are the newest colors, available starting today, August 1st!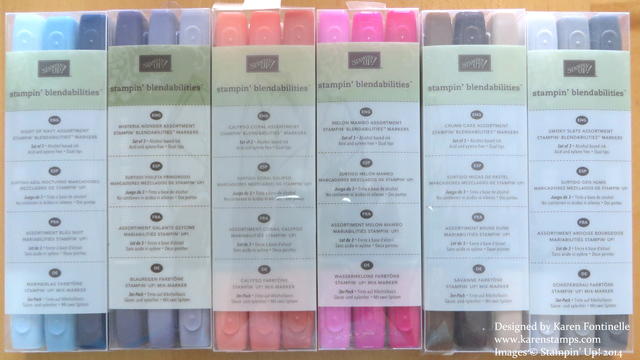 Night of Navy  (Item 131001 – $11.95 )
Wisteria Wonder (Item 131002 – $11.95 )
Calypso Coral   (Item 130996 – $11.95 )
Melon Mambo   (Item 130994 – $11.95 )
Crumb Cake  (Item 131004 – $11.95 )
Smokey Slate  (Item 131005 – $11.95 )
These colors and items have already been available:
Cherry Cobbler   (Item #130995 – $11.95)
Coastal Cabana  (Item #131000 – $11.95)
Daffodil Delight   (Item #130998 – $11.95)
Old Olive   (Item #130999 – $11.95)
Pumpkin Pie  (Item #130997 – $11.95)
Rich Razzleberry  (Item #131003 – $11.95)
Skin Tone Assortment (Item #129370 – $22.95)
Memento Ink Pad (Item 132708 – $5.95 )
Memento Ink Refill (Item 133456 – $4.95 )
Color Lifter  (Item 129369 – $4.95 )
See all the Stampin' Blendabilities products available in my Stampin' Up! Online Store HERE!
FYI:  Texas Sales Tax Holiday August 8 – 10! Since school supplies will be tax free during this period, certain Stampin' Up! products, including the Stampin' Blendabilities, will be included.  More details coming!
This is a good day and weekend to go to my Stampin' Up! Online Store and check out the Big Shot Bundles Promotion and the new Blendabilities you can order!