While there are lots of creative Stampin' Up! demonstrators out there, you don't have to be creative yourself to be a demonstrator!  This card is an example.  I followed the directions in our demonstrator Stampin' Success Magazine….ask any demo….probably one of the best parts of being a demo is receiving this great magazine once a month from Stampin' Up!  So many cute ideas for cards, scrapbook pages and other fun projects as well as business tips from other top demonstrators in the company.  All I did on this card was change the image they used to my "A Good Egg" chick!  It's not a card that opens the normal way, but rather the top half flips up (due to the mini brad on the side holding the pieces together so that they are moveable) to reveal the sentiment.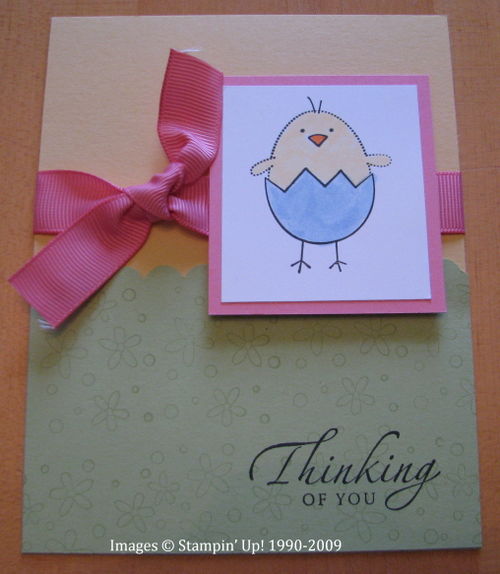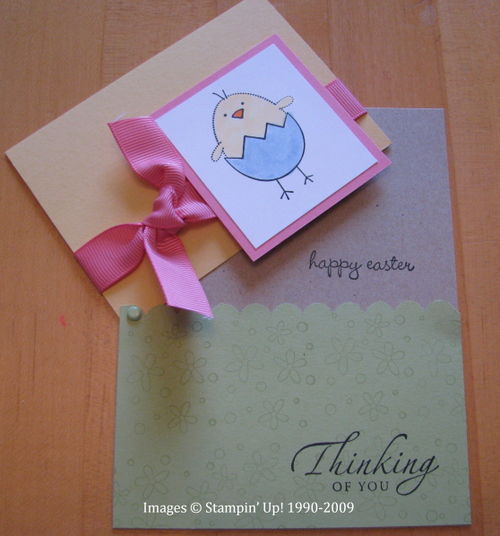 If you want more specific directions on how to make this card, just email me.
If you want to get the great Stampin' Success Magazine, just sign up on my website (to become a demo!)!  The Starter Kit is even on sale!  And you get a free stamp set as well!
Recruits
During Sale-A-Bration, anyone who joins as a demonstrator can choose any stamp set—a value of up to $47.95—from the current Idea Book & Catalog! Plus, new recruits get 15% off the Starter Kit—over $350 of Stampin' Up! products and business supplies for only $169!