Whenever I see these mailboxes, I think about the excitement they caused a couple years ago when they appeared in the Target dollar spots!  As soon as they were found and stampers began altering them and posting pictures online, other stampers just went wild all over the country for these little mailboxes!  Target probably wondered what in the world was going on as their dollar spots were stalked, phone calls made to the stores checking on inventory and deliveries, and shopping carts filled up with how ever many mailboxes could be found!  It was Target Mailbox-Mania…..and I'm not sure it is over yet!  Apparently this year's mailboxes are starting to show up in Target dollar spots and are silver!  However, I still have plenty of white and red ones in my closet so I don't need silver ones (unless, of course, someone posts something with a silver one that is so darn cute I can't resist!).  They ARE nice for gifts…..you can stamp notecards to put inside or fill with candy or a little gift.  Actually, years ago my friend Chris sent me a red Christmas mailbox, personalized, that I always put out on my table with the lid open and candy canes laying inside.
Here is my most recent Valentine mailbox using the oh-so-cute Love You Much stamp set!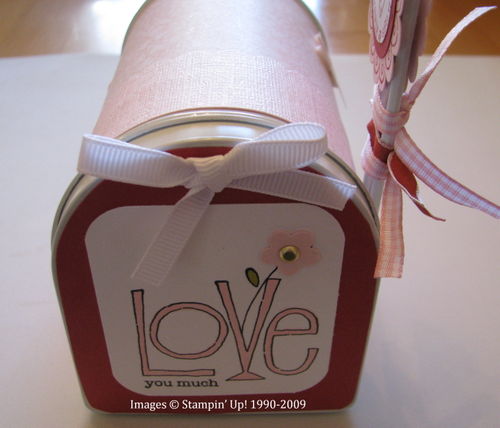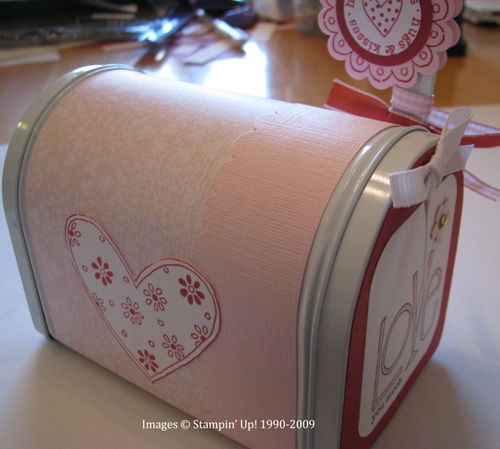 I used the Bella Rose Designer Paper on this mailbox.