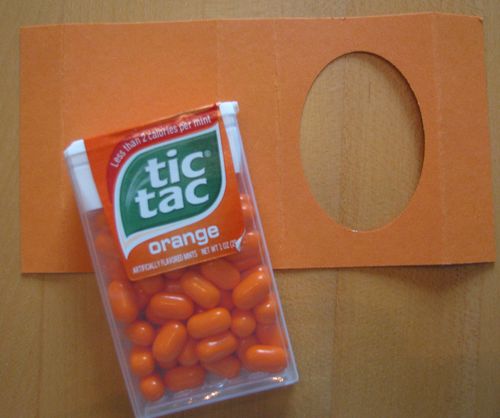 I've seen a lot of different characters online made by various stampers using Tic Tac boxes. When you wrap some paper around the Tic Tacs and punch a hold in order to see through to the Tic Tacs, you can make a cute Santa, snowman, jack-o-lantern, elf, etc. Some have used the Two Tags Die and tied it with ribbon on the side, some have used the Top Note Die, and some have just wrapped a piece of card stock around the Tic Tac box.
In this project, I used a piece of Pumpkin Pie card stock cut at 5 1/4 x 2 3/4" (I assume all Tic Tac boxes are the same size, but I'm not sure). Either you can just wrap the strip around the Tic Tac box tightly, sort of scoring the edges with your fingers as you fold, or you can score at 5/8", 2 3/8", 3" and 4 3/4". The fun part is punching out a shape on the front so you can see through to the Tic Tacs inside.  You will need to tear off the label or it might show in your punched hole. For this pumpkin, I used the Extra-Large Oval Punch #119859 but you could use a small circle punch. Figure out which panel is going to be the front, and center the punch as best you can.  You could also punch a Post-it Note, stick it where you want your shape to be punched on your project, and then punch.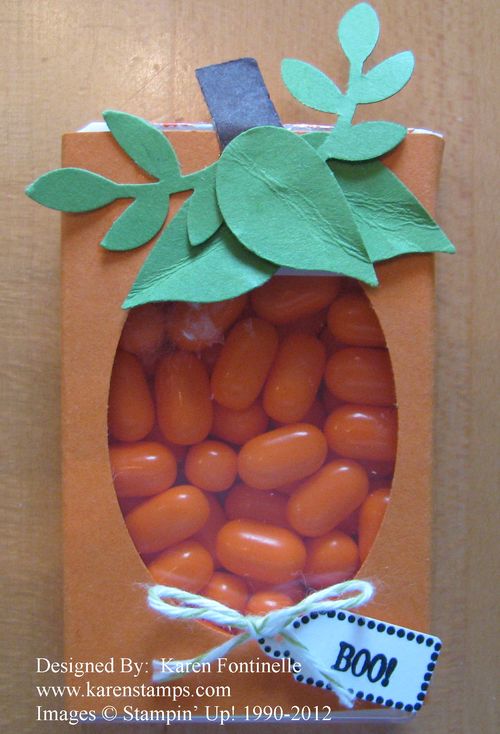 Then to make my box look like a pumpkin, I punched some leaves and branches with the Bird Builder Punch #117191 and cut a little scrap of brown for the pumpkin stem. You could also add scraps of black to make a jack-o-lantern face if you wanted to. You could also add a piece of window sheet inside the card stock and glue a face on that…or just stick on the Tic Tac box.  Then for some embellishment, I added a "Boo" from the Tiny Tags stamp set and punched out with the Jewelry Tag punch #117190. Finally, I tied on a little piece of Lucky Limeade Baker's Twine to the little tag.
This is an easy project and fun to do!  Use your imagination and come up with something to coordinate with the color of Tic Tacs you have!
For any card stock and punches, just shop at my Online Store! Don't forget the Merry Christmas promotion if you are interested in the Ornament Keepsakes Bundle.