This is one of my all-time favorite things for Thanksgiving, even though it is not made out of paper!  I'm not sure where I learned to make these, but probably in a magazine, could be about twenty years ago.  I know I have made LOTS of these turkeys for class parties for my children in preschool and probably elementary school and they were always a hit! There are lots of similar turkeys out there made with Oreos or more pieces of candy corn involving frosting and all kinds of stuff.  I always thought these were the easiest and still darn cute!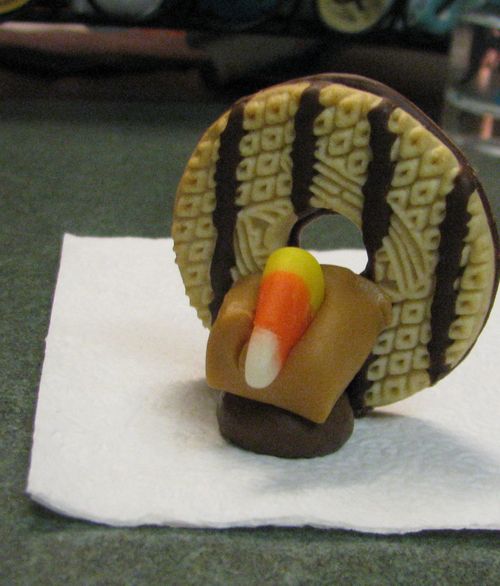 Supplies: Keebler Fudge Stripe Cookies, Hershey Kisses, candy corn, Kraft Caramels
Directions: Take a Kraft caramel and microwave it just a few seconds until it is slightly soft.  Not melting or anything!  Just a little soft.  Have a Hershey's Kiss unwrapped and sitting on the plate or napkin and a cookie and candy corn ready.  When the caramel comes out of the microwave, plop it on top of the Hershey's Kiss.  Immediately "smoosh" the cookie against the backside of the caramel until it sticks.  Take the candy corn on edge and stick it into the caramel.  Voila!  You have a turkey!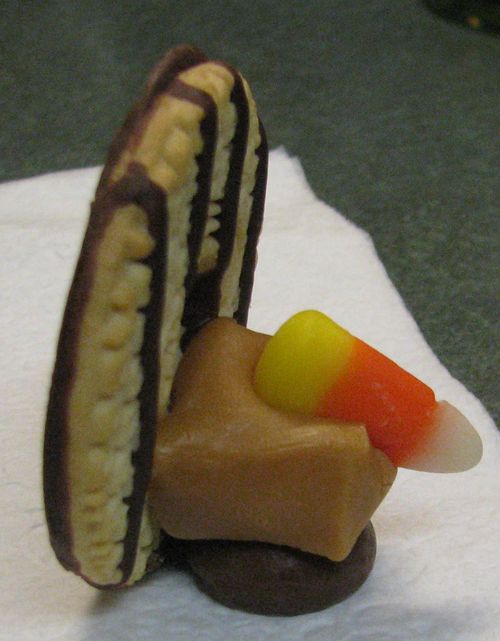 These turkeys are so fun to make for Thanksgiving!  To make multiples, just have your ingredients ready to go.  You can soften several caramels at a time on a paper plate in the microwave, maybe about six.  You want to be able to work quickly when the caramels come out of the microwave so you can stick everything together.  Have extras on hand because there will be some broken cookies!