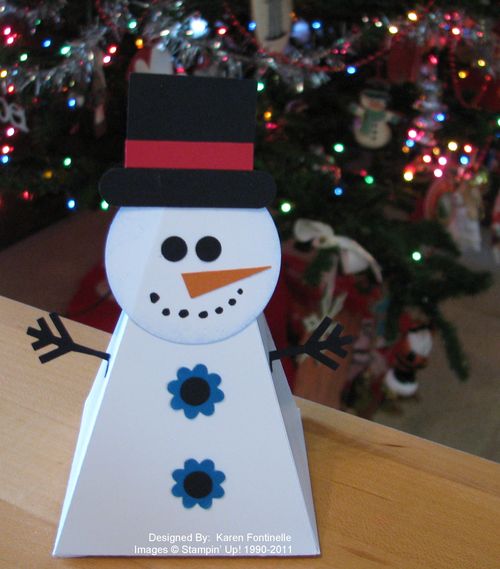 On someone's blog, I saw a Santa made out of the Petal Cone Die #121810, and it made me think that I could make a snowman the same way!  
Just glue your two

Petal Cone

pieces together, close up the bottom and put the point at the top.  

Punch out a large  1 3/4" Circle for the face, sponge a little Bashful Blue around the edges and make his face.  
For the hat, just punch or cut a square, then use the Word Window Punch for the brim and put a little strip of red.  
I fancied up his little lump of coal buttons with the Itty Bitty Shapes flower shape.  
The arms are the Snowflake Punch, trimmed.  I folded the ends and glued onto the sides of the snowman.
Really, you don't need directions!  Just use your "snowman imagination" and go for it! Put some candies inside and make one as a Christmas party favor for everybody for your holiday table!
If you need more punches or other stamping supplies to make this Petal Cone Die Snowman, I would be happy to have you order them HERE!  Thanks!