It's been awhile since I have made one of these, but they sure are fun little things to make for party favors or little gifts.  You can use card stock or stamped card stock or designer series paper.  You might want to use the heavier weight designer series paper, but I think this one will be fine.  I used the Thoroughly Modern DSP, but of course you could use anything.  A Hershey's Nugget is what I used for the candy on the inside, hence the name, Nugget Purse!
Cut a 1 1/4" x 3" piece of Designer Series Paper (DSP) to wrap around the nugget. Just put adhesive on both ends of the "wrong side" of the DSP, sticking one end to the bottom of the nugget and wrapping the other around.
For the purse:  DSP  1 3/8" x 4 1/4"
Score at 3/4", 1", 2 1/4", 3 1/4"  Put a piece of Sticky Strip in between the 3/4 and 1" score lines.  Fold on all the score lines and see how the purse will go together.  If you want, use your Tag Corner Punch or your Corner Rounder Punch on what will be the front flap of the purse to cut off the corners.  Take a 4 1/4" piece of grosgrain ribbon to match or just a strip of card stock for the purse handle.  Remove the red liner of the Sticky Strip and attach the ends of the ribbon (or card stock) together over the Sticky Strip, forming the handle of the purse.  
For the little decoration on the purse flap, in a coordinating color of card stock, use the 1/16" punch to punch a hole and then punch out with the Trio Flower Punch (or the 1/2" Circle Punch).  (It is pretty hard to punch the flower first and then add the hole, unless you use your paper piercer….so punch the little hole first, then center in your flower punch).  Hold your purse together (without the flower decoration) as if it were assembled and use the 1/16" punch to punch through both the flap and the purse.  Now insert a brad into your punched flower and then into the purse to hold together.  Reach inside to spread the legs of the brad.  You could always use a little piece of velcro or even just glue the flap down with a mini glue dot.  Now insert your wrapped Nugget into the purse, perhaps using a bit of SNAIL or a mini glue dot on the bottom to hold it in the purse.
All of these supplies can be purchased at my Stampin' Up! Online Store of course!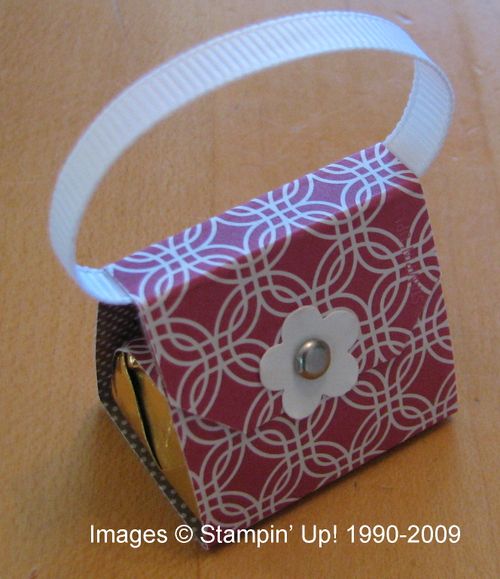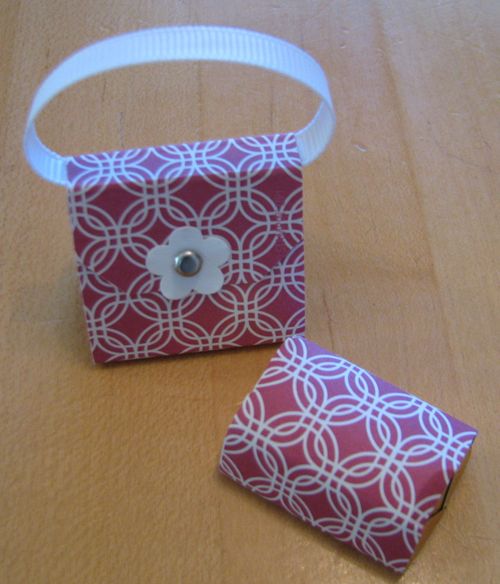 I wish I had more Hershey's Nuggets!  I'm in a Nugget Purse kind of mood!