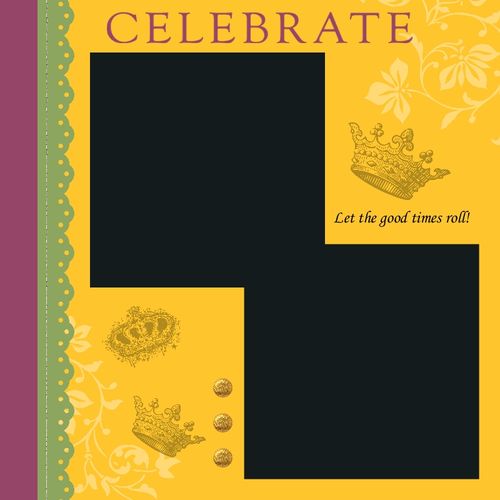 Today is Mardi Gras…. French for "Fat Tuesday", which refers to the last night for eating rich foods before Lent begins on Ash Wednesday. Mardi Gras is really a period of time, varying between cities, for festivities. We usually think of Mardi Gras in New Orleans but it is celebrated in many other places.  Galveston, TX has Mardi Gras festivities, parties, and parades, and they celebrated the past two weeks.
Beads are a big part of Mardi Gras….everyone wants beads, the fancier the better!  Usually they are thrown during the parade into the crowd but you'll find them at parties and lots of places.  King cakes are popular decorated cakes with a tiny plastic baby baked inside.  Usually the person who gets the piece with the baby has a special privilege or obligation….like maybe they have to bring a king cake into the office the next day! The grocery stores are full of king cakes right now.
So if you were lucky enough to celebrate Mardi Gras, perhaps you would like to scrap your photos!  There is no faster way than to use My Digital Studio from Stampin' Up! To make the page pictured above, I just started with a template, changed the color of the background paper and the punches along the side, added a photo box, added the crown "stamps" (known as brushes) and added a little text.
Stampin' Up! is offering a free 30-day trial of My Digital Studio Express! This is the perfect opportunity to try your hand at digital papercrafting….and it's not just scrapbooking!
Go ahead…..take the 30-day free trial and see what digital papercrafting is all about!  You just download it in minutes and you are ready to use it!