It didn't take too much work to figure this one out, I just copied the page from the Love You Much Bundle flyer, except that I used Bella Rose Designer Paper instead of the Candy Lane (would hate to use too much of the new paper, you know!).  I used a 6×6 piece of Riding Hood Red In Color cardstock and stamped the hearts from Love You Much on the background in Riding Hood Red Ink.  I also could have used Versamark for the same subtle effect.  Then I adhered two strips of the Bella Rose paper to the bottom third.  You can do whatever size strips you like, mine were about 1 3/4  x 6 and 1×6 with the bottom one overlapping the top one about 1/4".  You wouldn't have to overlap since the ribbon goes across the two pieces anyway.  I used my white gel pen to free-hand some dots across the top of the paper border.  Then it was a chance to use one of my metal-edge tags for a change.  This is the largest one. (If you don't have the metal-edge tags, you can get the same effect with gray or silver cardstock for the bottom layer and your stamped layer on top).  I stamped on a scrap piece of Whisper White paper rather than the tag itself, just in case of a mistake!  The new large circle punch….1 3/4"…. fits that tag perfectly.  In order to get that little red heart above the birds, I kind of stamped the top part of the stamp with Riding Hood Red and the rest in black, punched that out with the big circle punch and adhered it to the tag, right over the white part that is already there!  Then I stamped the birds again with Stazon black….now either you can do this on Whisper White and color in your birds whatever color you wish, stamp them on colored cardstock, or stamp them on Designer Paper….then cut out carefully (without the legs!) and adhere them to the tag, right over the stamped birds with Dimensionals.  I also used Dimensionals to adhere the tag to the scrapbook page.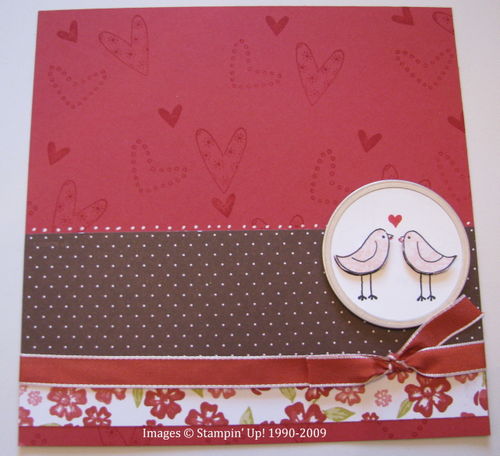 Now if 6×6 isn't your size, either enlarge the page to start with, or make this 6×6 piece and add it to your larger page.
If you ever thought you wanted to be a Stampin' Up! demonstrator but weren't "creative" enough, this shows you that you can copy, copy, copy!  Stampin' Up! is even getting better and better at providing ideas for us demos and even to you customers, so don't let creativity stop you!  Read all about becoming a Demonstrator here.  You can even sign up online now, just contact me for my special password!  You'll have your Demo number in moments!