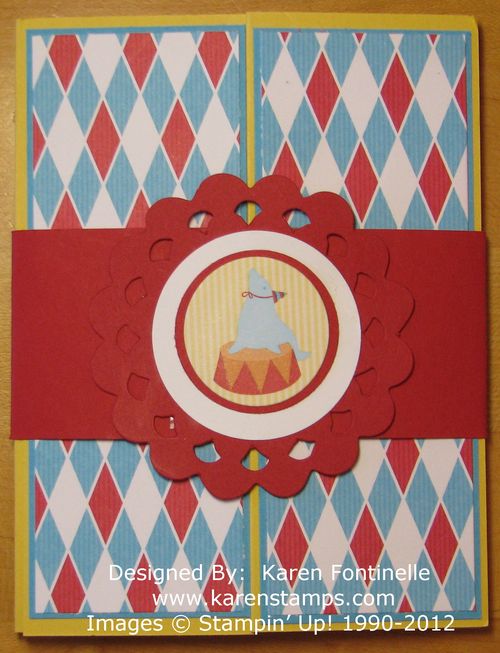 Often times we think it is difficult to come up with a card for a boy or a man, but once you put your mind to it, it's really not impossible!  And nothing says this card couldn't be for a girl, but I did need a card for a young boy.
This is a gate-fold card, which is very easy to make. Once you have the idea, you could vary the size to whatever you need.  I started with a 5 1/4" x 12" piece of card stock for the base. It is scored at 2", 4", 8" and 10". That gives you a 4" center with each side (4") folded in half.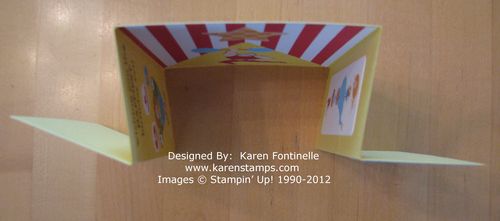 Here is the inside decorated with the Big Top Birthday Designer Series Paper #122348. Besides just using the paper, I cut out some images to place on the card.  Also, another fun thing is to add die-cuts from the Big Top Birthday Quick Accents #122368.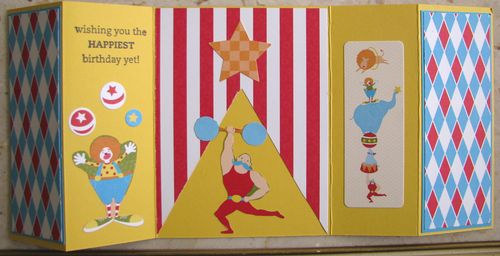 You can do various things with the front of the card.  I chose to make a belly band around, cut out a medallion from the Perfect Pennants Die #123126 and stuck on a self-adhesive accent from the Quick Accents.  You can find the designer paper and the Quick Accents on the main catalog on pages 186-7.  All of these papers and Quick Accents are great for scrapbooking, but you can use them for any kind of project!
To shop for any Stampin' Up! products, just click HERE.  Be sure to check the Clearance Rack if you are doing an online order (last week Stampin' Up! added a lot of new items to the Clearance Rack but inventory can change rapidly depending on demand)….and don't forget about the Retired List of stamp sets! (this is an updated list to print in black and white if you choose).