A really great thing about stamping is that you don't need electricity to do it (except for embossing, of course).  The other day my power went off for the whole afternoon (only going to McDonald's to get a cold drink made it go back on, as  soon as I left, I'm sure!) so I just did some stamping.  Even the Big Shot doesn't need electricity!  What a great feature!
Here is one of the cards I made that afternoon: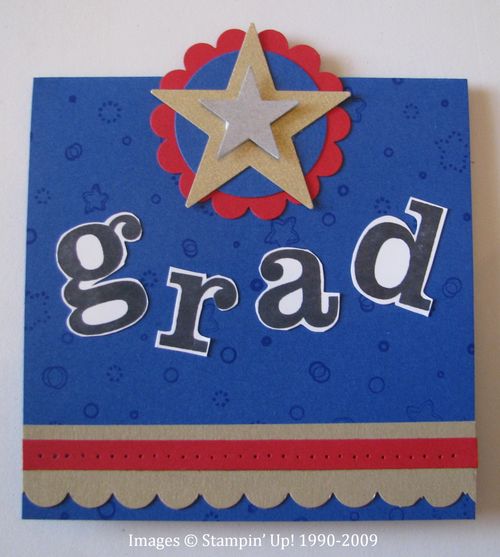 The Brilliant Blue card base is 4×4.  The "grad" letters come from the stamp from "Great Grads" but I cut them apart.  Just playing around!  The wheel I used is actually retired but very similar to the Jumbo "See You Around" wheel….or you could stamp a little background of something….or leave it plain.  I used the two star punches to make gold and silver cardstock stars, the Scallop Circle punch, the Scallop Edge punch for the border and the paper piercing tool in the Crafters' Kit to make the little pokey holes in the Real Red strip.  I think it would be a great size card to use the Slit Punch to hold a gift card inside.