You've heard me say before that one of my favorite things about being a Stampin' Up! Demonstrator is receiving the special Stampin' Success Magazine every month!  You would think we would all become accustomed to getting this magazine and become rather ho-hum about it after awhile…..but ABSOLUTELY NOT!  As soon as they start hitting the mailboxes, demos are posting that they received theirs and others start posting wondering when theirs is going to arrive!  We are always anxious for the next issue packed with business tips and fabulous projects!  Stampin' Up! even posts the magazine online so we get a sneak peek before it hits our mailboxes, even though it is nothing like having it in our hot little hands!
The November 2010 issue had a great article about preserving memories with handmade albums, just small simple ones.  I took the basic idea and used it as a project in my stamp camp last weekend and added a few different touches.  I thought it was a great idea for a generic little album, whether people wanted to make it for a few Thanksgiving photos or something else.
Here is the little scrapbook we made, starting with just a 10" x 5" piece of card stock!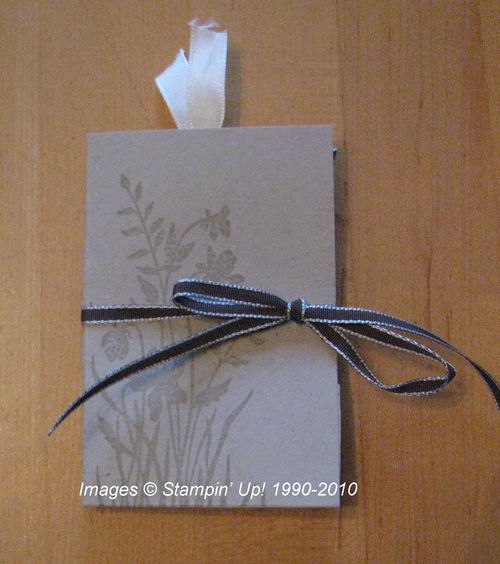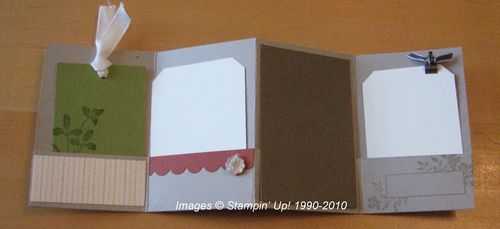 Click on the photos to enlarge.
You can make this album any size….just fold your paper in half, open, then fold each side to the middle, producing four sections.  Fold the bottom up for the pockets.  Make a few tags or photo mats, do a little stamping or punching little scraps of paper, add a couple little embellishments….whatever!…..you have a nice little album ready for photos!  On this project we used the stamp set "Just Believe".
If you have any questions about this project or becoming a Stampin' Up! Demonstrator with the amazing Starter Kit 50% discount, just leave me a comment!