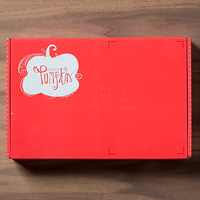 The Stampin' Up! Paper Pumpkin Kits for April 2016 have been delivered to subscribers!  If you don't want to miss out on the next kit in May, be sure to get yourself subscribed!
It's easy to join!
Sign up on my Paper Pumpkin page HERE! (or just get more information)
Add a Prepaid Paper Pumpkin Subscription to your Stampin' Up! order!  You'll receive a code via email right after you order. It will tell you to set up your account on the Paper Pumpkin page and you will be set to go!
Sign up either way by May 10th to receive the May kit.
Watch for your Paper Pumpkin kit in your mailbox around mid-May!
Everything you need comes in your kit! A stamp set, an ink spot, a clear block with your first kit, and all the paper and supplies you need to make the project.  Sometimes it is cards, sometimes it is something else.  It's always a surprise.
No risk! If it doesn't suit you, just cancel. If you are busy and want to skip a month, just go in to your account and pause your subscription. Resume when you are ready.
Give Paper Pumpkin as a gift! I send one to my daughter as a gift and if she is too busy, she just pauses her subscription for a month or two.
Who do you need a gift for and want something different?  Who do you know could use  a little "me" time to just sit down and relax while they have some crafting time? Who do you know would enjoy a little surprise gift who doesn't even craft?  Paper Pumpkin is for everyone and anyone!
Take a look at April's Paper Pumpkin Kit!  Sometimes there are plenty of extra pieces left over that you can make even MORE projects with! If you don't like the project or you don't want to make all the cards or whatever, just go with your own design and creativity.  Nothing says you can't change it up!  Just have fun with it! That is what Paper Pumpkin is for!